Electric
Bikes
Ready for more oomph!
Electric Bikes Buying Guide
Ready for more oomph? E-bikes are the future of travel, don't get left behind. Here's why you need one and how it will impact your life.
There's never been a better time to go Electric
Electric is the future of transport and there's never been a better time to go electric. Here at Halfords, we have a mission to provide you with all the advice, guidance and support you need as you make the eco-friendly transition. Let's help support a sustainable future!
Check out our new Electric hub. For more information about electric cars, bikes and scooters, including the latest products, services and advice...
WHAT IS AN ELECTRIC BIKE?
An electric bike is just like a normal bike, with the addition of an electric motor and battery.
Electric bikes, or e-bikes, are the perfect choice if you want to ride faster, keep up with friends, help you up hills, improve your time around the woods or making the commute to work a breeze! E-bikes are incredibly versatile and fun bikes that are reliable and intuitive to use.
An electric bike will provide all the freedom and advantages of a regular bike, while reducing the strain on your body by using its electric motor to give you an assisted boost when required.
View Electric bikes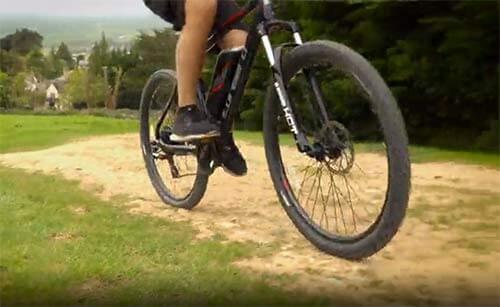 Classic Electric Bikes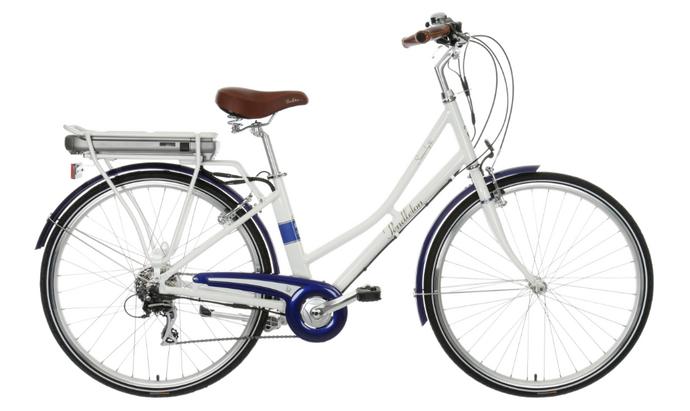 Electric classic bikes are our most popular E-Bike for everyday use. They are great for light off road pavement bridal ways and tarmac, offering a very comfortable ride for a causal e-rider.
Hybrid Electric Bikes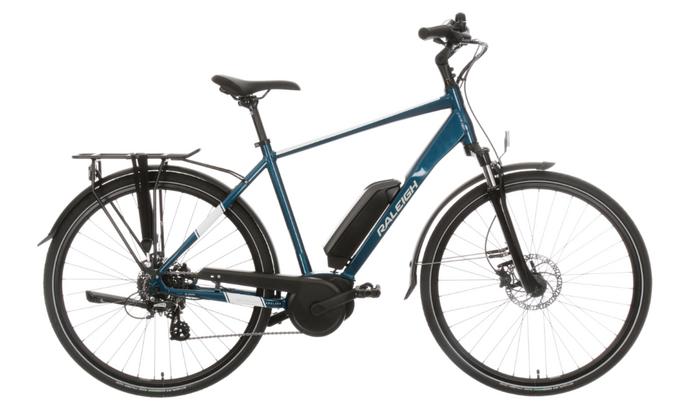 Suitable on Irregular and rugged terrain, bridle ways, gravel roads, and roads making it a very versatile bike.
Electric Mountain Bikes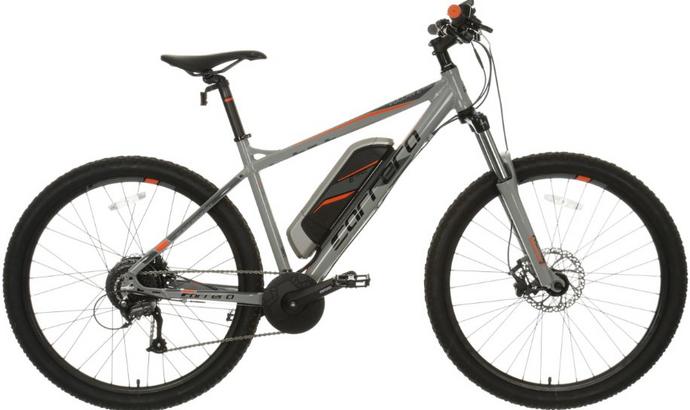 Electric Mountain Bikes offer the most fun for your true Mountain bike rider. With suspension front and back it gives you the ability to keep traction over incredibly rough terrain, This gives confidence when riding up or coming back down.
Electric Folding Bikes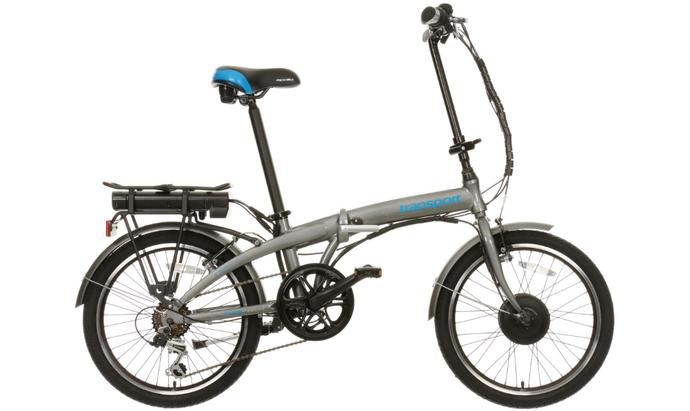 Enjoy cycling with the ability to fold your bike for storage and travel, great for busy commuters, camping holidays and for people with tight storage space at home.
There are three key areas to look out for when choosing an e-bike, that impact the overall performance and ride quality.
MOTOR TYPES
The position and type of motor impacts both the ride performance and weight distribution - providing optimal stability.
BATTERY RANGE
Like a car's fuel tank, the bigger the battery, the more juice you have - allowing you to travel further or have more assistance.
SENSOR TYPE
Sensors come in two forms, speed sensors which provide an 'on' or 'off' feel, and torque sensors which provide power relative to the riders' input from a more natural ride.
We have combined all of these features to provide an overall rating on each of our e-bikes, so look out for this when comparing our models.
48 HOUR TRIAL (CURRENTLY SUSPENDED)
Take one of our electric bikes for a FREE 48 hour test ride at one of our 36 trial stores. This is currently unavailable, to focus on essential customer services.
With our 48 hour Electric Bike trial, we give you the opportunity to test ride one of our Carrera Crossfire-E Mens/Womens Electric Hybrid Bike, Carrera Crosscity Electric Bike or the Pendleton Somerby Electric Bike for up to 48 hours for FREE. Getting started is simple:
Terms and Conditions apply*
Terms and Conditions apply*
1. Enter your postcode into our store locator to find your nearest 48 hour electric bike trial store.
2. Click below to book a phone consultation for a time that suits you.
3. One of our expert colleagues will call you at the time of your booking choice for your 48 hour trial.
4. Pick up your E-Bike at the booked time - don't forget that you need bring with you a valid debit or credit card and passport or driving licence!
5. Enjoy taking your E-Bike for a spin!
6. Return your E-Bike back the store at your allotted time.
Book your phone consultation here
FREE 30 MINS

ELECTRIC BIKE TRIAL
The majority of stores are able to provide E-bikes for a test ride of 30 minutes.
These can be arranged with your local store by appointment only, to see which stores offer this service, visit electric bikes test rides. Please note that our colleagues in store will require a debit card for a security deposit and a photograph ID such as a driving license or passport to allow you to test the bike. Sadly, we can't let non-E-bikes out for a ride, but the majority of our stores now have static cycle trainers set up which will allow you to sit on the bike they are looking at and get a good feel for it.
*Trial not available in Northern Ireland.
LOCATE A 48 HOUR TEST RIDE STORE NEAR YOU
Ayr
Brighton
Cambridge
Carrickmines
Chelmsford
Christchurch
Cork
Cribbs Causeway
Eastbourne
Exeter
Farnborough
Gateshead
Hendon
Huddersfield
Inverness
Leicester, St Margarets Way
Lincoln, Tritton
Liverpool, Edge Lane
Mansfield
Milton Keynes
Newport
Norwich
Oxford, Between Towns Road
Oxford, Botley Road
Plymouth, Longbridge Road
Portsmouth, Ocean Park
Preston, Mariners Way
Stirling
Swansea
Swindon
Tamworth
Telford
Thanet
Twickenham
Wakefield
York

Electric Bike CycleCare
Keep your prized possession in top working order with a Halfords Electric Bike Care Plan. Available for either one or three years, the plan includes everything you need to keep your bike in fantastic working order, without having to lift a finger!
Frequently Asked Questions
Have you been wondering about e-bikes? What they are, what the law is, and how can they help you? If so, you've come to the right place. Here you'll find the answers to many of the most common questions about electric bikes. We hope you find it useful!
E-bikes, or to give them their proper name, 'electrically assisted pedal bicycles', are bikes which feature both a motor and a battery. The motor provides additional power only whilst the rider is pedalling. There's no 'throttle', but there are a number of levels of assistance to select, based on the type of ride or how energetic you feel. Law requires that the motor assistance stops once the bike reaches 15.5 mph, but of course you can pedal faster than that if you've got the energy!
Electric bikes (or e-bikes) are fitted with a small electric motor that can assist you with your pedalling stroke. A rechargeable battery is mounted to the frame and provides the power for the motor. The motor only works when you are pedalling, giving you an extra boost rather than allowing you to stop pedalling entirely..
Fun! Electric bikes are smooth and easy to ride; riding on flat ground feels like riding gently downhill, and climbing hills is easy. As the motor helps with acceleration, e-bikes are really well suited to riding in stop-start city traffic; you'll always feel safe and in control since the motor assistance stops as soon as you stop pedalling or when you pull on the brakes.
Absolutely not! The motor simply provides assistance to your pedalling; you're still riding the bike. You can set the level of assistance according to the terrain, how much help you want, or how much of a workout you fancy. This assistance allows you to go further on a ride, ride up steep hills with ease, and stops you from becoming winded or sweaty.
Plenty of people benefit from riding an electric bike: E-bikes are perfect for the cycling commuter. An e-bike can help to take the sweat out of cycling, enabling you to ride to work in your work clothes and turn up feeling fresh, without the need to shower or change. Another benefit is that the motor helps you to accelerate from stationary, which is incredibly helpful in stop-start city traffic. If you're less fit than you'd like, an e-bike will help you to tackle longer rides at faster speeds, as well as helping you to easily power up those hills. Family riders will be able to easily keep up with their enthusiastic child or partner on an e-bike. The extra assistance is also helpful when carrying a child on a child bike seat, tag-along bike, or in a child trailer. (If you'll be doing this, we recommend riding at lower speeds and using a higher torque 'climb' mode, if available.) Leisure riders will really appreciate the reduction in effort you need to put in, making every trip a breeze.
Anybody over the age of 14 is allowed to ride an e-bike on public roads, as well as paths and tracks where you can legally ride a regular bike (cycle paths but not pavements). There's no need for the bike to be registered and you don't need a driving licence or insurance*. The law doesn't require an e-bike rider to wear a motorcycle helmet*, but we always recommend that you wear an ordinary bicycle helmet, CE marked and approved to EN 1078 (which all of our helmets are). If you're going to be riding in darkness or when visibility is poor, you'll need to equip your bike with a powerful set of front and rear bike lights. *Except in Northern Ireland (see 'E-bikes and the law' section below for full details)
As fast as you like - depending on your own strength and stamina! E-bike motors are only legally allowed to provide assistance up to the speed of 25 km/h (15.5 mph); at speeds above this it's all down to the energy that you put in. Some retailers may offer high power or high speed e-bikes or e-bike conversion kits; we don't sell these as they're classified as mopeds under UK and ROI law. This type of bike must be fully Type Approved as a moped, be registered with the DVLA, be fitted with a number plate, and the rider has to have a driving licence, be insured and must wear a motorcycle helmet. Some claim to have fitted a switch to allow these bikes to be de-restricted when 'off road' - however, this means that the bike is still legally classified as a moped, due to its higher speed or power capability.
Under the law in England, Wales, Scotland and the ROI, e-bikes are classified as Electrically Assisted Pedal Cycles (EAPC). To be classed as an EPAC, the bikes must meet the following criteria: The motor has a power rating of 250 watts or less Assistance is only provided when the rider is pedalling and assistance is only provided up to a speed of 25 km/h (15.5 mph) The law also permits a 'walk assistance' mode, where the bike moves with you when walking alongside it. This is limited to 6 km/h (3.7 mph). Being free to ride an e-bike wherever a regular bike can be ridden is an enormous benefit to cyclists, but could be jeopardised by people using higher power or faster e-bikes - particularly if there's an accident. Because of this, we'll never sell or advocate the use of electronic speed de-restriction devices or techniques, and we've made sure that it's impossible to use these with the e-bikes we sell. If you're in Northern Ireland, the law is different and you'll need the following to legally ride an e-bike: tax insurance motorcycle helmet DVLA registration AM category moped licence.
The range of an e-bike mainly depends on the battery's capacity (the number of watt / hours). However, the range is also influenced by plenty of other things, such as: The rider's weight Speed changes Luggage weight Stop and start travel in traffic Terrain Drag caused by the road or track surfaces The tyres' type, condition and pressure The bike's condition/level of maintenance Average travel speed Wind speed and direction Unlike electric cars, e-bikes do not use 'regenerative braking', where braking recharges the battery. This is because the lower mass and speed of an e-bike means there's less wasted energy to capture, and the increase in drag that this system creates wouldn't make for a good ride.
This varies with the battery's capacity. On average, a full recharge from empty usually takes between 6 and 8 hours, so the bike can easily be fully recharged overnight. However, it's usually best to recharge the battery after every ride, so that the bike's ready to go whenever you are. E-bikes use lithium ion batteries, which can be recharged even when they've not been fully discharged. If you commute, it's a good idea to grab a second charger so you can charge the battery up when you're at work.
The restrictions that apply to normal bikes on public transport also apply to e-bikes. These vary from region to region, as well as between different transport operators. Therefore, it's wise to check before you travel!
Again, this varies with the capacity of the battery. We'll take a look at the Carrera Crossfire-E with the SR Suntour system as an example. For a full recharge, the charger consumes 1.8 amps for 6 hours, which equals 2.48 kilowatt hours (KWh). The average UK price per KWh is £0.139*, resulting in a total cost of £0.35 for a full recharge. With the SR Suntour system, the range is affected by the mode selected, with a minimum of 80 km (49.7 miles) to a maximum of 130 km (80.8 miles). The cost varies from 0.7 pence per mile at the minimum range, through to 0.4 pence per mile at the maximum range. Even when we take battery deterioration into account, the total cost rises to a max of 2.1 pence per mile and a minimum of 1.3 pence per mile. * 2015 data from the Department of Energy & Climate Change
If you read a newspaper or watch the news, it's likely that you've heard of cases where lithium ion batteries have caught fire. Whilst lithium ion batteries have an excellent capacity for their weight, the trade-off for this high performance means there are a few risks. When our bike gurus are selecting the batteries for our e-bikes, they ensure that: The cells used in the battery are from one of the top three lithium ion cell manufacturers in the world. The battery pack manufacturer fully tests and grades every cell, as well as fitting a sophisticated electronic Battery Management System (BMS) in every battery pack. The BMS continuously monitors every cell's electrical current and temperature. If the system senses any potential problems, it'll safely shut down the battery and won't allow it to be turned back on if there's any risk that the battery is faulty. The battery charger has been specifically designed for use with that particular battery for that particular bike, and is able to communicate with the BMS during charging. The battery pack has to be fully approved to UN / DOT 38.3. This includes extreme charging and discharge testing, along with high temperature and physical abuse tests.
Like the batteries in your phone and your laptop, the capacity of the lithium ion batteries found in e-bikes deteriorates over time and with use. Halfords' e-bike batteries are guaranteed to retain at least 60% of their original capacity after two years, or the equivalent of 500 full recharges. However, bear in mind that this depends on correct use, regular recharging, correct storage preparation and correct storage. The Battery Management System built into the battery pack keeps a record of the exact number of charge cycles it's been through and whether the battery's been correctly charged and stored. If you're planning to be out on your e-bike frequently, you might want to buy a second battery. This means that you'll always have a charged battery ready to go, as well as prolonging the life of the original battery since it won't be charged as often.
Cycling is the most efficient form of transport on earth, producing (on average) 21 grams of carbon dioxide per kilometre ridden*. This makes it even more efficient than walking! An e-bike's emissions are slightly higher, since its manufacture requires more energy and recharging consumes electricity. However, since riding an e-bike reduces the rider's effort (by up to 62.5 %*), the total efficiency and emissions end up being only slightly higher, at 22 grams of CO2 per kilometre ridden*. * Source: European Cyclists' Federation
We're able to get hold of all the spares for the electrical drive system from our suppliers, so we can easily repair or replace any worn or faulty parts to keep your bike on the road for a long life.
It's safe to ride your e bike on trails as long as it meets the Government criteria for an
electrically assisted pedal cycle (EAPC)
. If your electric bike meets the rules set out by the Government, then anyone aged over 14 can ride it on trails, cycle paths and anywhere else that normal pedal bike is used.
Electric bikes (e bikes) are legally allowed on the roads if they meet certain requirements to class them as an electrically assisted pedal cycle (EAPC). The bike must have pedals and the motor must not be capable of travelling over 15.5 mph, with a maximum power output of 250 watts.
EAPCs must also show either the power output or the manufacturer of the motor and the battery's maximum voltage or the maximum speed of the bike. If these elements aren't displayed, then your bike isn't considered road legal.
You can read more about the legal classification of e bikes on the Government website. Every e bike sold at Halfords conforms to the government rules and is safe and legal to ride on the roads.
Our in-store experts can help you out by recommending and supplying the right accessories for your particular e-bike. They'll be able to tell you which kick stand and mudguard your bike needs, as well as being able to help out with replacement or second batteries and chargers.
I will only ride on permitted highways and cycle paths.
I agree with the condition of the bike that I will be using for my test ride.
I have been asked to provide my own safety equipment for the test ride.
I agree to take responsibility for my health and well-being whilst on the test ride. I acknowledge and represent that to the best of my knowledge, I do not suffer from any medical or physical condition or disability that will or might increase the normal risks associated with undertaking physical exercise and I know how to ride a bike.
I accept that (i) I will be liable for any death or personal injury to third parties, damage to property or any other claims, losses, costs (including, without limit, all legal costs) or demands arising out of my participation in the test ride; (ii) I will be liable to pay for any and all damage caused to the bike as a result of the test ride; and (iii) under no circumstances will Halfords be liable for any actual or alleged direct or indirect loss suffered by myself arising out of the test ride.
Nothing in this disclaimer shall limit or exclude Halfords Limited's liability in any way that is not permitted by law.
I acknowledge that I am required to return the bike to Halfords at the specified date and time. If I do not return the bike to the Halfords store, I accept that (without prejudice to any other rights or remedies they may have) they are permitted to charge my debit / credit card for the full costs of the bike I have taken.
Test rides are discretionary and Halfords reserves the right to refuse a test ride for any reason without liability.
Bikes tested are to be returned clean and with a charge of at least 80%.
Bike should be returned with the keys and the battery charger that were supplied for the test ride.