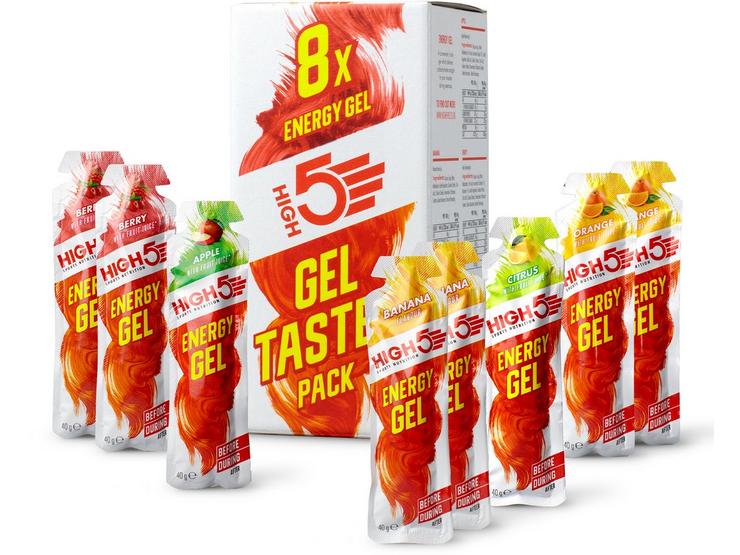 10 people are viewing now
5 purchases during last 48 hours
Brand : High5
Purpose : Energy
H5 Gel Taster Pack (8pk)
HIGH5 Energy Gel delivers 23g of carbohydrate straight to your muscles during exercise, running or cycling. It is a great value energy pack to try HIGH5's favourite Energy Gels. HIGH5 Energy Gel is a powerful fruity energy gel, providing you with quick energy on the go.
It contains all caffeine free Energy Gel flavours in one box! Not sure what flavour you like? Test them all and find your favourite. Energy Gel is smooth with a light consistency, making it easy to have on the go. And, because it's made with natural fruit juice, it tastes great too!
Easy to open and swallow
Features & Benefits:
Caffeine-free
Real fruit juice for a light refreshing taste
Suitable for vegetarians and vegans
Energy Gel is designed to be taken BEFORE and DURING exercise.
Warning/Advisory:
Tear the top of the sachet and drink the gel directly from the sachet. Take up to three sachets per hour during exercise, less if you are also using a sports drink.
When exercising it's important to stay hydrated so we recommend using this product alongside ZERO.
High5 Energy Gel Taster Pack Extra Info:
Energy Gel Banana (40g) x2
Energy Gel Orange (40g) x2
Energy Gel Berry (40g) x2
Energy Gel Apple (40g) x1
Energy Gel Citrus (40g) x1
Click here for our handy guide on how to take gels!
Click here for High5 nutritional information