MUC-OFF All Weather Chain Lube - 400ml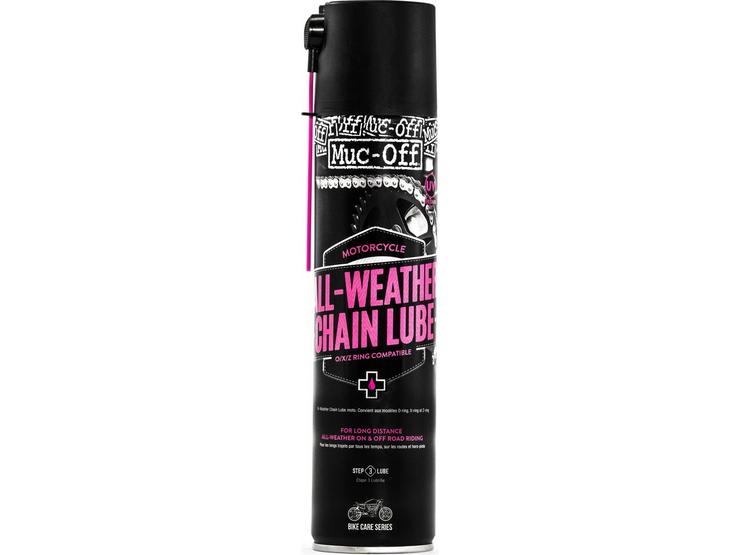 10 people are viewing now
5 purchases during last 48 hours
MUC-OFF All Weather Chain Lube - 400ml
Suitable For : Engine and Chain
Product Type : Chain Lube
MUC-OFF All Weather Chain Lube - 400ml
The Muc-Off All Weather Chain Lube is a high-performance, synthetic chain lube perfect for long distance, all weather, on or off road riding. Designed to revolutionize chain efficiency and performance, the Muc-Off All Weather Chain Lube gives maximum protection over long distances with its unique water repellent, non-fling formula.
After years of research and development, we identified that there were some big differences with what riders want and need from a chain lubricant. The Muc-Off All-Weather Chain Lube is the first of its kind, and is ideal for tourers or commuters. It creates a durable protective coating to guard your chain against corrosion in all weather conditions. An added benefit to our unique formula is that it includes a UV Dye for seeing specific coverage of the lubricants, when using a UV Torch. This also allows you to wipe away any overspray that may have otherwise gone undetected.
Features & Benefits:
Suitable for standard, O, X and Z-Ring chains
Clean and easy to use
Non-fling formula penetrates deep into the chain link
Ceramic additives increase component life and maximize horsepower
Compatibility:
Hazards and Warnings:
Danger:
Extremely flammable aerosol.
Warnings:
Pressurized container. May burst if heated.
May cause drowsiness or dizziness.
Toxic to aquatic life with long-lasting effects.
Hazards & Warnings

Danger: Extremely flammable aerosol
Warning: Pressurized container: may burst if heated

Warning: May cause drowsiness or dizziness
: Toxic to aquatic life with long lasting effects