Muc-Off Motorcycle Cleaner - 1 ltr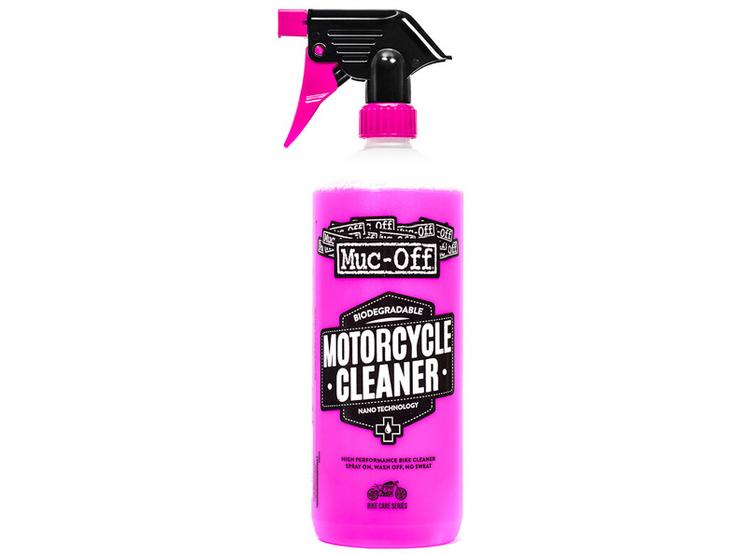 10 people are viewing now
5 purchases during last 48 hours
Muc-Off Motorcycle Cleaner - 1 ltr
Suitable For : Bodywork and Paintwork
Product Type : Motorcycle Cleaner
Muc-Off Motorcycle Cleaner - 1 ltr
Using the latest nano technology, this brilliant Muc-Off Motorcycle Cleaner cuts through dirt, oil and grime quickly and safely. It is safe for use on all parts and surfaces with the specially designed formula and causes no harm to the seals, cables, brake pads or rotors. This perfectly pink cleaner is biodegradable, free from acids, CFCs and solvents, and it's alkaline based so you can clean away with a guilt-free conscience.
Features & Benefits:
Easy to use; simply spray on and wash off
Nano sized particles fill and bond to form a smooth protective layer
Safe on anodised metal
Hazards and Warnings:
Warning:
May cause serious eye irritation. Keep out of reach of children.
Additional Note:
How to use:
Step 1 - Rinse the motorbike thoroughly before applying the Nano Tech Motorcycle Cleaner.
Step 2 - Spray the Nano Tech Bike Cleaner onto the entire motorbike (including components) and leave on for 3-5 minutes.
Step 3 - Agitate any stubborn grime with a brush or sponge.
Step 4 - Rinse the entire bike thoroughly with fresh, clean water.