Muc-Off Motorcycle Cleaner Refill - 5 ltr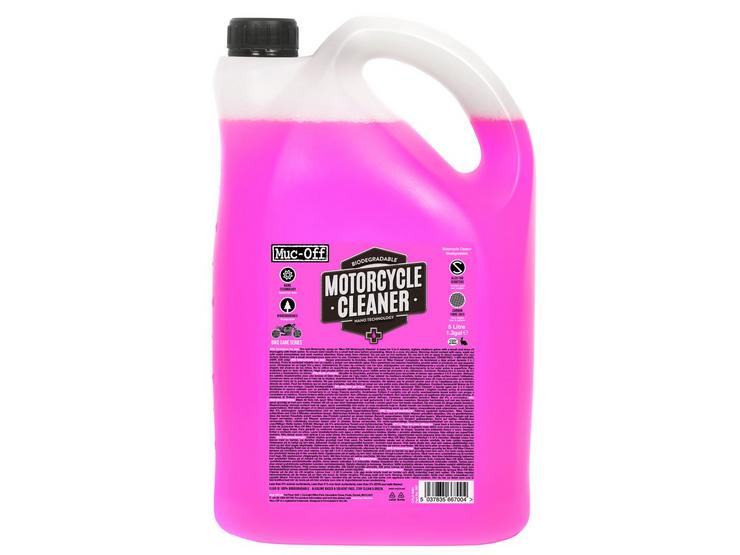 10 people are viewing now
5 purchases during last 48 hours
Muc-Off Motorcycle Cleaner Refill - 5 ltr
Suitable For : Bodywork and Paintwork
Product Type : Motorcycle Cleaner
Muc-Off Motorcycle Cleaner Refill - 5 ltr
The unique Muc-Off Nano Tech Motorcycle cleaning formula makes motorcycle cleaning and maintenance easy, regardless of the weather conditions. It has an incredibly effective cleaning formula containing "Nano Technology" that also cares for your motorbike's delicate finishes. It contains no harmful acids, CFCs or solvents and is fully biodegradable. It's completely safe on anodised, paintwork, chrome, carbon fibre, suspension seals, rubber and disc brake pads. It cuts through dirt, oil and grime quickly and safely, leaving your bike sparkling clean.
Mix 5L concentrate with water for up to 20 litres of Bike Cleaner. Each Bike Cleaner Concentrate pouch uses 89% less packaging than the equivalent 2 bottles of 1 litre Muc-Off Bike Cleaner. So, don't chuck out your old Bike Cleaner bottle; save it and save the planet!
It gets even better. The Bike Cleaner concentrate can also be used as a powerful degreaser in its concentrated form, and it really works like a charm in Muc-Off's X-3 Dirty Chain Machine! It is safe to use on your bike's frame, forks, headsets, shock units, bars, grips, seats, pivot points, rims, wheels, spokes, hubs, gears/sprockets, aluminium, steel, plastics, composites, decals and rubber.
If you are using the Bike Cleaner Concentrate as a degreaser, simply apply directly to the drive chain area directly from the pouch. Leave on for approximately 30 seconds before agitating the area with a brush. Rinse with fresh water after 30 seconds.
Features & Benefits:
Alkaline-based and free from CFCs, solvents or acids
1 litre bottle = 4 litres of Bike Cleaner at £5 per litre
500ml pouch = 2 litres of Bike Cleaner at £6 per litre
Hazards and Warnings:
Warning:
Causes serious eye irritation. Keep out of reach of children.
Additional Note:
Directions for use:
1. Rinse the motorbike thoroughly before applying the Nano Tech Motorcycle Cleaner.
2. Spray the Nano Tech Motorcycle Cleaner onto the entire motorbike (including components) and leave on for 3-5 minutes.
3. Agitate any stubborn grime with a brush or sponge.
4. Rinse the entire bike thoroughly with fresh, clean water.
5. Don't forget to protect and then lube after each clean.