Scottoiler FS365 Bike Protector Spray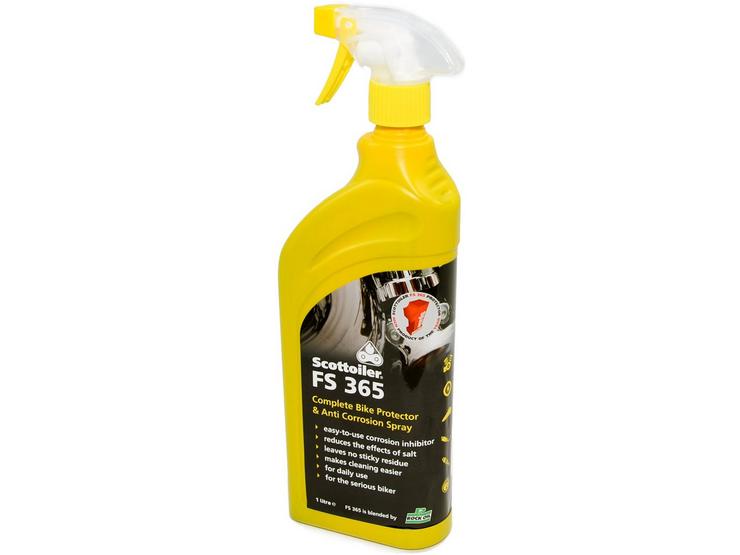 10 people are viewing now
5 purchases during last 48 hours
Scottoiler FS365 Bike Protector Spray
ENDS WEDNESDAY!

Extra 10% Off When You Spend £30+
On Motoring, Tools, Technology, Child Travel & Camping
Use code: PAYDAY10 in basket
Scottoiler FS365 Bike Protector Spray
Protect your bike from road salt all year round with the Scottoiler FS 365 Bike Protector Spray. It is a water-based corrosion inhibitor for cleaning hard-to-reach places of the bike. The water content then evaporates, leaving a film of protection on all surfaces. It is safe to use on all materials. You can simply spray it on to plastic, metal, engine components, hoses, carbon fibre, anodised surfaces as it won't affect them.
The FS 365 is formulated using mild alkalis and chemical compounds known as pH buffers that work to balance out the acidic elements.
The process of rusting and oxidising requires water vapour, air and time (salt and heat speed up this process, acting as catalysts to the reaction). The FS 365 acts as a corrosion inhibitor in two further ways:
1. In general by supplying a lubricant to all metal surfaces, which builds up as you re-apply, protecting them from the air.
2. When it comes into contact with salt, it reduces its catalytic effect on the corrosion process.
The FS 365 is a blend of mineral oil, surfactant, anti-corrosion additives and water, which forms a stable micro solution. This forms an effective layer of protection against corrosion, clinging to all surfaces and building up over time with each application. The FS 365 is water soluble and readily biodegradable, which further helps when it comes to cleaning as any dirt which sticks to the FS layer is easily washed away.
So, in essence, the FS 365 works as a barrier protector, as well as a disrupter in the chemical processes involved in corrosion. With continued re-application, it makes cleaning the bike easier and builds up layers of protection.
Features & Benefits:
Water-based corrosion inhibitor
Continued use will make cleaning the bike easier
Water content evaporates to leave a film of protection
Hazards and Warnings:
Warnings:
Do not spray the FS 365 on the brake discs, callipers or tyres.
If you do, wipe off and thoroughly clean with water to prevent damage.