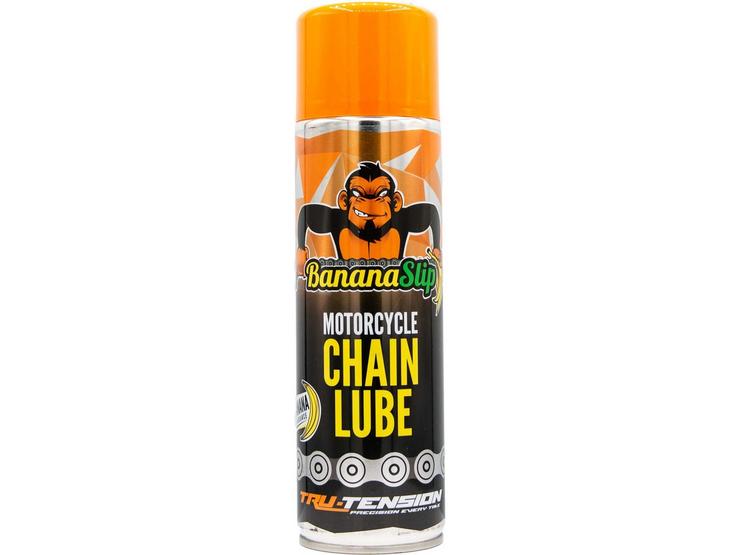 10 people are viewing now
5 purchases during last 48 hours
Suitable For : Engine and Chain
Product Type : Chain Lube
Tru-Tension BananaSlip Motorcycle Chain Lube
This Tru-Tension BananaSlip Motorcycle Chain Lube is specifically formulated to perform exceptionally well in all weather conditions, while providing long-lasting protection. It penetrates deep into all parts of the chain to give optimum coverage.
The Lube contains a unique combination of properties in order to reduce frictional losses, whilst leaving an anti-fling, wet film with a slipper banana flavoured scent to protect against even the harshest environments.
It's extremely thin to allow immediate penetration in all moving areas of the chain. Besides, it's completely transparent and only requires a small amount to be applied for optimum lubrication.
Features & Benefits:
Supports Street, track or race riding
Regular application of chain oil
Supports Aggressive or fast riding
Supports Frequent gear changes and quick-shifting
Improves performance
Prolongs sprocket life
Increases chain life
Optimizes power delivery
Smooths ride
Compatibility:
Compatible with standard O, X and X-Ring chains.
Hazards and Warnings:
Danger:
Extremely flammable aerosol.
Warnings:
Pressurized container. May burst if heated.
Causes skin irritation.
May cause drowsiness or dizziness.
Toxic to aquatic life with long-lasting effects.
Additional Note:
How to use:
Step 1: Ensure the chain is clean and dry before applying.
Step 2: Evenly apply to all surfaces of the chain.
Step 3: Ride on!
Hazards & Warnings

Danger: Extremely flammable aerosol
Warning: Pressurized container: may burst if heated

Warning: Causes skin irritation

Warning: May cause drowsiness or dizziness
: Toxic to aquatic life with long lasting effects