Tru-Tension Chain Clean & Lube Kit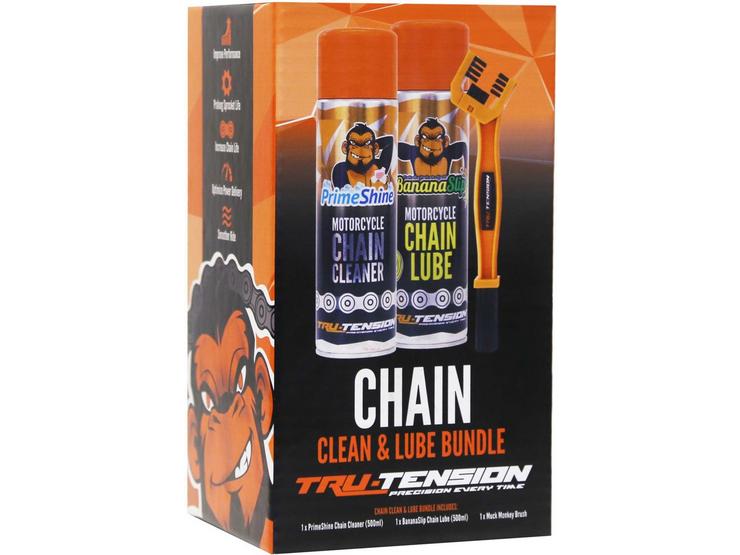 10 people are viewing now
5 purchases during last 48 hours
Tru-Tension Chain Clean & Lube Kit
Suitable For : Engine and Chain
Product Type : Chain Lube
Tru-Tension Chain Clean & Lube Kit
The Tru-Tension Chain Clean & Lube Kit provides you with the perfect combination for cleaning and lubricating your motorcycle drive chain. It quickly and effectively removes all dirt from the chain before providing it with the best lubricating action for a long-lasting and smoother ride.
• 500ml Prime Shine Chain Cleaner
A powerful cleaner for motorcycles with 'O', 'X', and 'Z' rings. It features outstanding cleaning and degreasing capabilities, as well as aids in quick evaporation and water displacement, without causing seal damage. It's easy to use with minimal effort, giving you the perfect surface to apply a fresh coat of lubricant or wax.
• Muck Monkey Brush Tool
The must-have cleaning brush for keeping your chain looking and performing at its best. The U-shaped brush is precisely designed to effectively remove dirt off your chain.
• 500ml Banana Slip Chain Lube
It is designed to penetrate deep into all parts of the chain and help prolong the life of this vital drive component. The anti-fling formula allows the chain lube to stay exactly where needed.
Features & Benefits:
Prime Shine Chain Cleaner and Muck Monkey are perfectly coupled to breakdown and remove dirt build up to leave your chain looking like new, ready for a fresh application of lubricant.
BananaSlip Chain Lube is the perfect choice to provide long lasting chain lubrication with enhanced performance and a fresh banana fragrance. Choose the perfect lubricant for your riding style to ensure enduring protection and weather resistance.
This 3 part chain care kit contains Prime Shine Chain Cleaner, Muck Monkey Brush Tool, Banana Slip Chain Lube.
Maintain your chain for continued performance mile after mile
Clean and Lubricate with one simple kit
Compatibility:
Compatible with standard O, X and X-Ring chains
Hazards and Warnings:
Danger:
Extremely flammable aerosol.
Warnings:
Pressurized container. May burst if heated.
Causes skin irritation.
May cause drowsiness or dizziness.
Toxic to aquatic life with long-lasting effects.
Hazards & Warnings

Danger: Extremely flammable aerosol
Warning: Pressurized container: may burst if heated

Warning: Causes skin irritation

Warning: May cause drowsiness or dizziness
: Toxic to aquatic life with long lasting effects