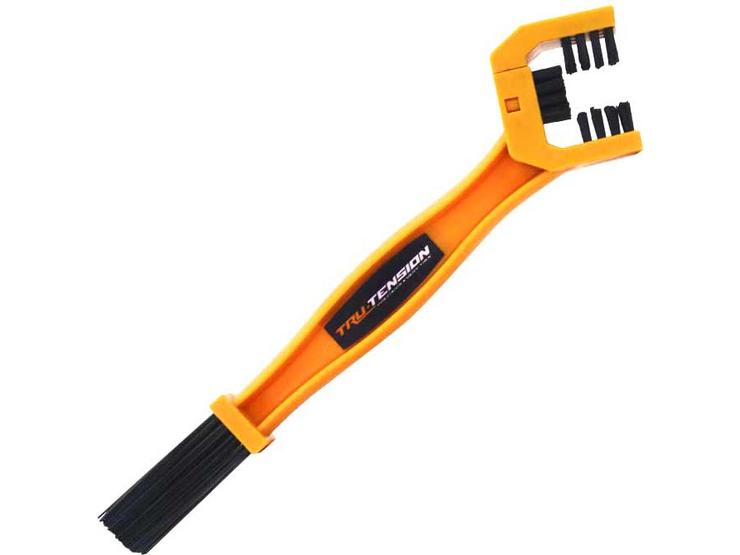 10 people are viewing now
5 purchases during last 48 hours
Suitable For : Engine and Chain
Product Type : Accessories
Tru-Tension Chain Cleaning Brush
The Tru-Tension Chain Cleaning Brush is the essential cleaning brush dedicated to keeping your chain looking and performing at its best. With four brushed faces, it is ideal to use in those hard-to-reach places of your motorcycle's finish.
Features & Benefits:
Prolongs the life of the chain and sprockets
Keeps the bike looking fresh
Suitable for a majority of motorcycle chain makes and sizes
Easy to use
Optimizes power delivery
Smooths ride
Hazards and Warnings:
Danger:
Extremely flammable aerosol.
Warnings:
Pressurized container. May burst if heated.
Causes skin irritation.
May cause drowsiness or dizziness.
Toxic to aquatic life with long-lasting effects.
Additional Note:
How to use:
Step 1: Place the bike on a stand and ensure it is secure.
Step 2: Apply a chain cleaning liquid to the chain. For best results, we recommend the PrimeShine Chain Cleaner.
Step 3: Work the dirt loose using the Muck Monkey brush, using the longer bristles for harder-to-reach places.
Step 4: Apply a final coat of chain cleaner and wipe the chain clean using a clean rag.
Step 5: Lubricate the chain before riding. For best results, use a chain lubricant from our BananaSlip range.