CTEK MXS 5.0 T UK Battery Charger
ONLINE EXCLUSIVE
Limited Stock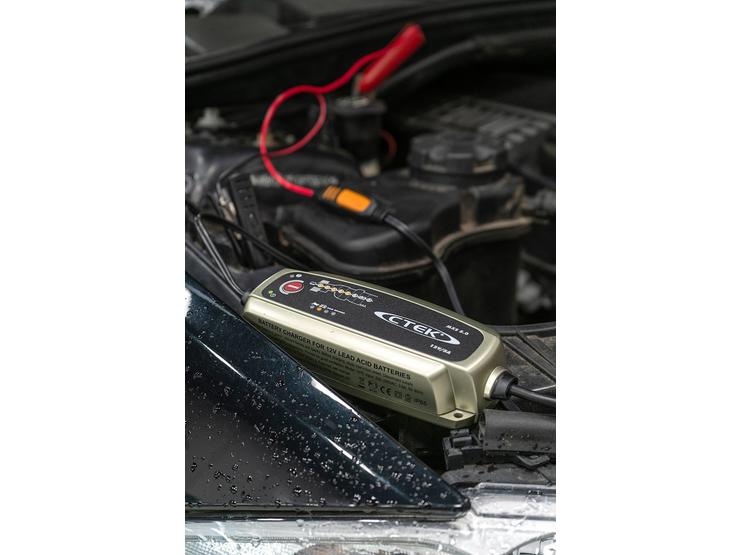 10 people are viewing now
5 purchases during last 48 hours
CTEK MXS 5.0 T UK Battery Charger
Charge Speed : Standard
Start Stop Compatible : Yes
Charge Rate : 5A
CTEK MXS 5.0 T UK Battery Charger
The CTEK MXS 5.0 T UK Battery Charger comes with automatic temperature compensation for the best charging performance, even in extreme conditions. The MXS 5.0 is an advanced microprocessor controlled battery charger which gives unrivalled performance for lead acid batteries from 1.2-110Ah.
The MXS 5.0 also includes battery diagnosis to establish whether your battery can receive and retain a charge, patented automatic desulphation program, an AGM option which maximizes the performance life of most Stop/Start batteries and a special Recondition mode for reconditioning deeply discharged batteries. The MXS 5.0 uses CTEK's patented float/pulse system, which is the most efficient maintenance mode when a battery is connected for long periods.
Features & Benefits:
Patented float/pulse maintenance for batteries up to 160Ah
Maximizes the performance life of most start/stop batteries
Smaller battery, normal battery, AGM and Recond programs
Built in automatic temperature compensation
Fully automatic 'connect and forget' 8 step 12V charging
Advanced charging
Cold weather performance
Start voltage: 2.0V
Input: 220-240VAC, 50-60Hz, 0.6A max
Output: 14.4V/14.7V/15.8V, 5.0A max
Built in automatic temperature compensation
Charges batteries up to 110A
Easy to read LED display
Splash and dust proof (IP65)
Safe spark free operation
Reverse polarity protected
Short circuit proof
Application:
Suitable for all batteries
Warranty Information:
Additional Note:
Included in the box:
1PC Charger
1PC Connect Clamp
1PC Connect Eyelet M6
Please Note:
Suitable for use on vehicles with Start/Stop batteries.