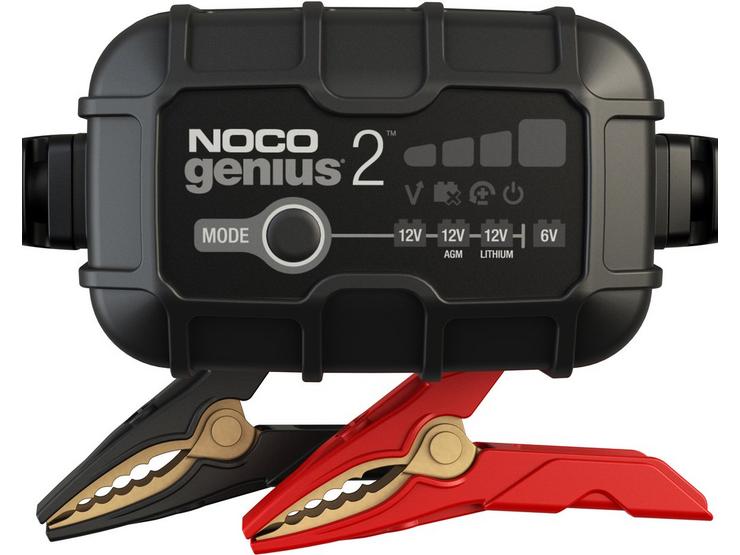 10 people are viewing now
5 purchases during last 48 hours
Charge Speed : Slow
Start Stop Compatible : Yes
Charge Rate : 2A
NOCO GENIUS2 2-Amp Battery Charger
Introducing the all-new GENIUS2 with more power and more features than ever before, making it truly most advanced charger of its kind. It's designed to maintain any type of vehicle without risk of overcharge, including SUVs, MVPs, Crossovers, Hatchbacks, Coupes, and Convertibles, as well as, Sports, Saloon, and Estate Cars. It's also ideal for fast charging smaller sized batteries found on Motorcycles, ATVs, PWCs and SSVs up to 40 amp-hours.
The GENIUS2 is a 6-volt and 12-volt battery charger, battery maintainer, and battery desulfator rated at 2-amps for lead-acid automotive, marine, and deep-cycle batteries, including flooded, gel, AGM, and maintenance-free, plus lithium-ion batteries.
Features & Benefits:
MULTIPLE MODES: Safely charge and maintain both 6-volt and 12-volt vehicle or leisure batteries, including Flooded, AGM, EFB, Lithium and Start-Stop batteries.
FORCE CHARGE: Bypass the internal battery sensing technology and manually force charging for trouble-shooting low-voltage batteries (down to zero volts).
ANY CLIMATE: Prevents overhearing and undercharging the battery by dynamically altering each charge based on the ambient temperature resulting in a more precise charge for longer battery life.
DIAGNOSTICS: Detects, warns and halts the charging process when connected to the wrong battery, an improper connection or spent battery.
MAINTENANCE: Automatically turns "on" and turns "off" the charging process while conditioning the battery every 24-hours with absolutely zero overcharge.
IN THE BOX: GENIUS2 Battery Charger, Wide-Angle Battery Clamps with Integrated Eyelet Connector (M8) User Guide, 3-Year Limited Hassle-Free Warranty, and Life-Time Customer Support.
Meet the GENIUS2 - Similar to our G1100, just better. It's 30% smaller and delivers 140% more power. And it's simpler and easier to use than ever before.
Do more with Genius - Designed for 6-volt and 12-volt lead-acid automotive, marine, and deep-cycle batteries, including flooded, gel, AGM, and maintenance-free, plus lithium-ion batteries.
Enjoy precision charging - An integrated thermal sensor detects the ambient temperature and alters the charge to eliminate over-charging in hot climates and under-charging in cold climates.
Charge dead batteries - Charges dead batteries as low as 1-volt. Or use the all-new Force Mode that allows you to take control and manually begin charging dead batteries down to zero volts.
Simple to set up and use - Plug-in, connect to the battery, select a charge mode, and start charging your battery. A fully-automatic, worry-free battery charger for year-round use.
Restore your battery - Detects sulfation and acid stratification and restores lost performance for stronger engine starts and extended battery life.
Compatible with all types of vehicles - Charge and maintain cars, motorcycles, lawnmowers, ATVs, tractors, trucks, SUVs, boats, classic cars, hot rods, and more - you name it.
Warranty Information:
3-Year Limited Hassle-Free Warranty
Additional Note:
Please Note:
Suitable for use on vehicles with Start/Stop batteries
WARNING: California's Proposition 65