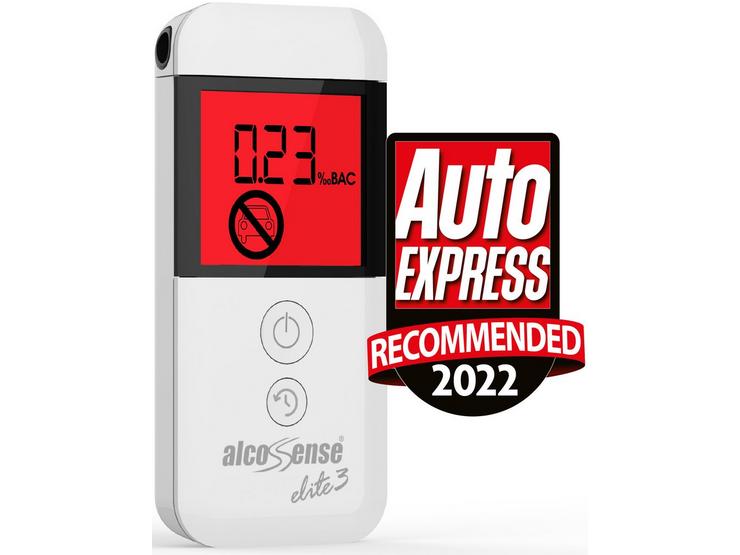 10 people are viewing now
5 purchases during last 48 hours
AlcoSense Elite 3 Breathalyser
Upgraded in almost every way, the AlcoSense Elite 3 replaces the multi award-winning Elite 2, raising the bar once again for semi-conductor breathalysers.
Successor to the multi award-winning Elite 2
28mm2 premium Semi-Conductor sensor
User selectable limits for Scotland/Ireland and England/Wales
Memory recall of last 9 results
Colour coded results
Two digit readings (e.g. 0.29mg/L)
Readings in either mg/L or ‰BAC
An Award-Winning Heritage:
Designed in the UK by AlcoSense's award winning team, the AlcoSense™ Elite 3 is the successor to the highly acclaimed AlcoSense™ Elite 2 - the most award-winning breathalyser on the market in the UK, including What Car? Best Breathalyser under £100, Road Safety Analysis Group Test Winner, Diesel Car Group Test Winner, Fifth Gear Group Test Winner amongst others.
AlcoSense Elite 3:
The AlcoSense Elite 3 sits at the top of our entry level breathalysers which use Semi-Conductor sensors. Utilising the latest Semi-Conductor sensor design, it offers unrivalled user friendliness and accuracy at this price point, before going up to our more advanced Fuel Cell sensor breathalysers including the Excel, Pro and Ultra. Compare models here.
Easy to use and understand:
The AlcoSense™ Elite 3 has been designed to be as easy as possible to use, fitting in the palm of your hand. To activate the breathalyser all you do is turn it on and it will count down 0 while it prepares the sensor, then it will display the blow symbol on screen. When it says blow, blow through the tube for approximately 6 seconds until it beeps. A few seconds later your results will be shown in increments of 0.01, giving you total clarity on your alcohol level.
The Elite 3 uses a colour coded results system and will even alert you when you are near or over your chosen limit which you can set to any of the three limits in place in the UK and Ireland, please see the screen shots.
All limits for the UK and Ireland!:
You can set the Elite 3 to alert you when you are close to or over any Irish or UK limit including 0.20‰BAC (Irish Limit for professional and novice drivers), 0.50‰BAC (Irish and Scottish limit) and 0.8‰BAC (rest of the UK and Channel Islands). If you travel between the territories you can easily change the Elite 3 between limits in seconds.
The latest Semi-Conductor sensor technology:
Utilising the latest Semi-Conductor alcohol sensor technology, the Elite 3 features a premium 28mm2 alcohol sensor, using the highest specification of Semi-Conductor alcohol sensor technology available. It has taken the Group Test Winning reliability of the Elite 2 (What Car? Best Breathalyser under £100, Road Safety Analysis Group Test Winner, Diesel Car Group Test Winner, Fifth Gear Group Test Winner) and improved it.
30 percent more accurate
:
The Elite 3 is now 30% more accurate than the Elite 2 and importantly, it is less sensitive to drift between calibrations; improving the long-term accuracy of the breathalyser.
Every AlcoSense unit is tested for accuracy three times before leaving our factory. As a result, our quality control is arguably the best in the industry meaning that you can have 100% faith in our products. AlcoSense Elite 3 has industry leading accuracy of +/-0.2‰BAC which is unique in this price range. If you require greater accuracy, please consider one of the models further up the range.
6 second breath sampling for real world accuracy:
AlcoSense Elite 3 features inbuilt air flow sensors to increase accuracy of the breathalyser in real world use, not only the lab. The most accurate concentration of alcohol in the breath is in the deep lung air and can only be measured after 1.2 litres of air has been blown out. The Elite 3 does not measure the volume of breath blown out (the Excel upward do), but it does sample the breath for 6 seconds which, for the average person, will include deep lung air.
If you do not blow for long enough the breathalyser will alert you and you can retake the test. Rival breathalysers at this price point typically take samples over less than 4 seconds and only sampling air from the throat. This can make them slightly easier to blow in to, but significanlty reduces accuracy.
Memory Recall
:
To make life even easier, the Elite 3 will store the last nine test results which can be easily accessed by pressing and holding the history button on the front of the breathalyser. Then scroll through the results by clicking the same button again.
Designed by an Award Winning Team
:
The Elite 3 is a sleek pocket sized breathalyser which can be discretely kept anywhere. Designed in the UK by AlcoSense Laboratories' award winning design team, it shares the same design DNA as the AlcoSense Excel (German Design Awards Winner 2018) and AlcoSense Pro and Ultra (Red Dot International Product Design Award 2016). AlcoSense Laboratories has won more independent group tests and awards for the performance of our breathalysers than any other brand in the UK, browse our trophy cabinet by clicking here. The Elite 3 measures only 110mm (height) x 51mm (width) x 20mm (depth). It is powered by 3 x AAA batteries (included in the pack) meaning that you can use it anywhere at any time.
Auto Sensor Cleaning
:
Keeping a Semi-Conductor breathalyser sensor clean and free from oxidisation is essential for long term accuracy and performance. The AlcoSense Elite 3 automatically performs a sensor clean after every time it is used and periodically performs a deep sensor clean, helping to keep the sensor in top condition and reading at its most accurate and performing at its best throughout its lifetime.
Recalibration Alerts
:
The Elite 3 now features a calibration reminder after 12 months or 300 tests so you can easily remember to have your breathalyser recalibrated and ensure ongoing accuracy.
Reliable
:
Using the latest technology and innovations, such as sensor algorithm and automatic sensor maintenance, AlcoSense™ Elite 3 can be used again and again whilst maintaining better accuracy.
Why Delay?
Part of the responsible enjoyment of alcohol is to understand its effect on the body and to understand when you are safe to drive, AlcoSense™ helps people do exactly that and takes out the potentially fatal guess work the morning after. Don't leave it to chance, order yours today.