AlcoSense Lite 2 Alcohol Breathalyser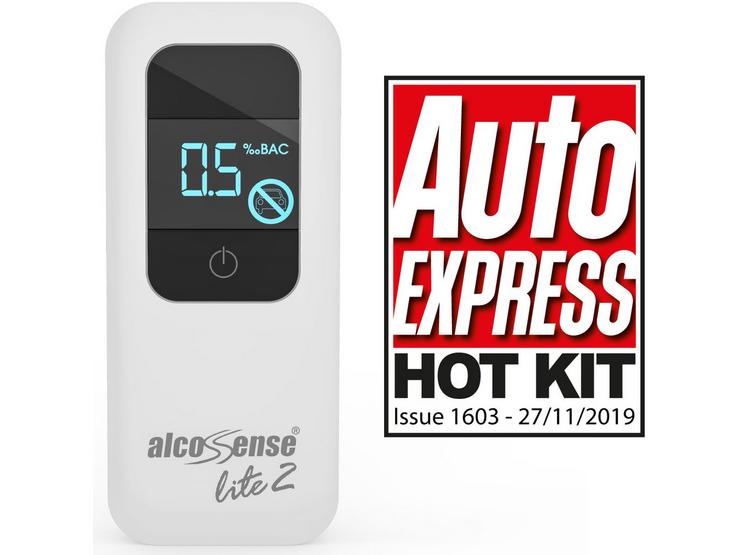 10 people are viewing now
5 purchases during last 48 hours
AlcoSense Lite 2 Alcohol Breathalyser
Accuracy : ±0.20‰BAC
Recovery time between tests : 5 minutes
Sensor Type : Intermediate Semi-Conductor
AlcoSense Lite 2 Alcohol Breathalyser
Designed in the UK by AlcoSense's award winning team, the AlcoSense™ Lite 2 is the successor to the highly acclaimed AlcoSense™ Lite (What Car? Best Breathalyser under £40, Road Safety Analysis Group Test Entry Level Winner, Diesel Car Group Test Runner-Up to AlcoSense™ Elite).
The AlcoSense™ Lite 2 may be our new entry level product but the design certainly doesn't cut any corners. It may not have all of the technology of its bigger brothers but for the occasional user looking for an indication of their level of intoxication, the AlcoSense™ Lite 2 will more than fit the bill.
Like all AlcoSense™ products, the Lite 2 has been designed to be as easy as possible to use. To do a breath test all you need to do is turn the unit on, wait for it to count down to zero and then blow until it beeps. Easy!
Any Limit in Ireland, Scotland or the rest of the UK
The AlcoSense™ Lite 2 reads across all limits currently used in the UK and Ireland and the don't drive alert can be adjusted by the user to any of those limits.
Easy to Understand Results
AlcoSense™ Lite 2 shows your level of intoxication in ‰BAC (promile blood alcohol content) in increments of 0.1 (If you require a more detailed readout or in mg/L please see the AlcoSense™ Elite). The AlcoSense™ Lite even alerts you when you are close to or over the user-set drink drive limit.
Sleek Pocket-Sized Design
The AlcoSense™ Lite 2 comes from the same design team that developed the AlcoSense Excel, Pro and Ultra, winners of the 2018 German Design Award and the 2016 Red Dot Product Design Award. Pocket sized, it can discretely be kept anywhere. AlcoSense™ Lite 2 measures only 110mm (height) x 45mm (width) x 21mm (depth). It is powered by 3 x AAA batteries meaning that you can use it anywhere at any time.
Easy Maintenance and Recalibration Alerts
The AlcoSense™ Lite 2 has an ASC feature, manually selected by the user, which is a deep clean of the sensor and should be undertaken periodically to remove containment like residue and oxidisation from the sensor. The Lite 2 now also features a calibration reminder after 12 months or 300 tests so you can easily remember to have your breathalyser recalibrated and ensure ongoing accuracy.
Use it Again & Again
Using the latest semi-conductor sensor technology and innovations AlcoSense™ Lite 2 can be used up to 300 times between calibrations meaning you will never be caught short. Please note, the Lite 2 does not actively clear residual alcohol from the sensor after each test meaning that you must wait 5 minutes between tests. If you wish to test more frequently than this please consider one of our models higher up the range.
Accurate
Every AlcoSense™ unit is tested for accuracy three times before leaving our factory. As a result, our quality control is arguably the best in the industry meaning that you can have 100% faith in our products. AlcoSense™ Lite2 has industry leading accuracy at this price point of +/-0.2 ‰BAC. Please note: the Lite 2 does not measure breath sample volume or flow rate which increases the accuracy of the readings, if greater accuracy is required please see our models further up the range.
Why Delay?
Part of the responsible enjoyment of alcohol is to understand its effect on the body and to understand when you are safe to drive, AlcoSense™ helps people do exactly that and takes out the potentially fatal guess work the morning after. Don't leave it to chance, order yours today.
Features & Benefits:
Accuracy : ±0.20‰BAC
Recovery time between tests : 5 minutes
Sensor Type : Intermediate Semi-Conductor
AlcoSense's Entry Level Breathalyser
Easy to Use, clear results in seconds
Intermediate level semi-conductor alcohol sensor
Adjustable drink drive limit to any UK or Irish limit
Recalibration reminder
Does not measure breath sample volume or flow
Warranty Information: