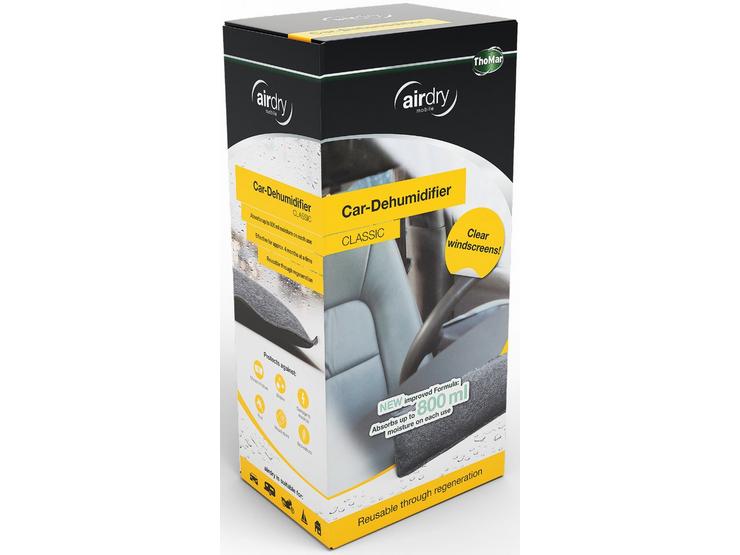 10 people are viewing now
5 purchases during last 48 hours
Air Dry Classic - Car Dehumidifier
The Air Dry Classic - Car Dehumidifier is just like a sponge, it draws and then locks in moisture using the contained action granules. The Air Dry classic is the centerpiece of the airdry product range and can absorb up to 800ml of water. It protects from misted windows, mildew and mould stains, damage to electrics, rust and bad odours!
Small and light, the Air Dry multi-purpose dehumidifier fits easily and unobtrusively in vehicles, whether on dashboards, in footwells, on back seats, parcel shelves or even inside the car boot.
The dehumidifier is perfect for protecting cars, yachts, boats, caravans and motor homes from moisture.
Unlike traditional salt-dripping systems, there is no risk of aggressive saltwater spilling and damaging textiles. Its non-harmful absorbent granules make it safe to use around children and pets.
It is an odourless dehumidifier that helps to keep windscreens clear and streak-free, perfect for fogged up windows or high humidity areas.
Features & Benefits:
Lasts up to 4 months
Reuseable
Drip-proof, the moisture is stored safely
Environment-friendly
Weight: 1kg
Dehumidifier cushion protects against fogged car windows
Strong performance, very high moisture absorption
Emits a pleasant fragrance for weeks
Dry on a radiator or in an airing cupboard to regenerate
Absorbed moisture does not leak onto surrounding objects, even when saturated
Airdry contains 100% natural granules made of clay, salt and starch