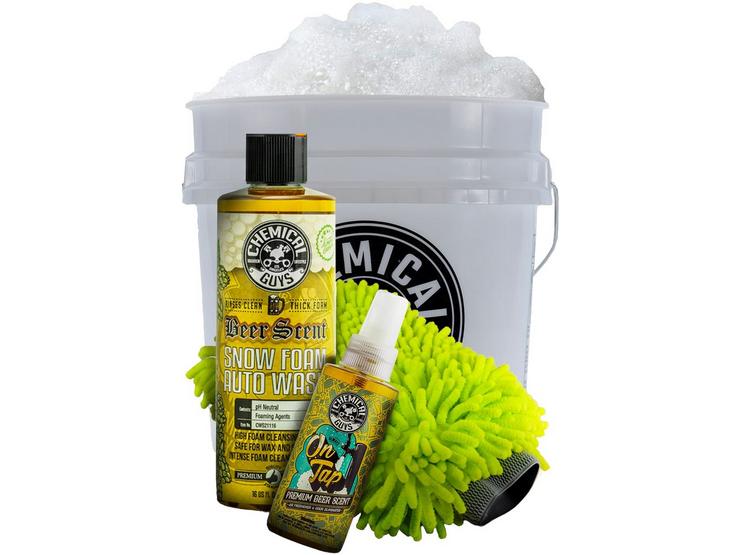 10 people are viewing now
5 purchases during last 48 hours
Cleaning Stage : Complete
Suitable For : Exterior and Interior
Chemical Guys Dads Essential Car Cleaning Kit
The Chemical Guys Dads Essential Car Cleaning Kit is the perfect gift for your father, providing everything you need to wash your Car and just a squirt or drop of this premium car wash kit will instantly recall those pleasant memories that accompany your favorite frothy beverage.

Items Included:

1 x Chemical Guys 4.5 Gallon Bucket

Every Heavy Duty Detailing Bucket is built out of food-grade high density polyethylene plastic. This material is renowned for its strength-to-density ratio, and chemical resistance. The carrying handle is made from a tough steel baling wire that will not bend or break under heavy bucket loads. Heavy Duty Detailing Buckets are 90 mils thick—30% thicker than competitor's standard buckets.

1 x Lime Green Wash Mitt

The Chenille Wash Mitt is made with premium 70/30 blended microfiber for extra-soft scratch-less cleaning and wiping. Every fiber acts like a piece of velcro hook and loop material, trapping and holding abrasive dirt and filth deep within the pile. This physically insulates particles from paintwork, drastically reducing the chances of installing any swirls or scratches.

Highest quality premium 70/30 blended microfiber stays softer for longer than cheap auto parts store mitts, and a double-stitched wrist cuff fits the mitt snugly to any hand for comfortable detailing. Throw the Chenille Microfiber Wash Mitt in the washing machine with the microfiber towels to maintain a clean, soft, and fluffy feel for years of scratch-less car washing and detailing!

1 x 473ml Beer Scented Snowfoam

The thick foam from this amazing shampoo will coat your car in billions of scrubbing bubbles that release dirt, dust, and debris, allowing your wash mitt to glide over the surface to remove abrasive particles without scratching and swirling, all while leaving behind the delicious scent of brewed wheat and honey for the most pleasant car washing experience you've ever had.

1 x 118ml Beer Scented Air Freshener

Everyone loves unwinding with an ice cold one, but it's not always possible. There are just some places where cracking open a nice cold brew simply isn't appropriate: at work, at school, in the car... When the stress of the day comes down on you and just need to unwind, reach for On Tap Beer Scent to take the pressure off, relax, and restore your sanity! The citrus hops contained within instantly erase old odours, leaving behind only the delicious scent of everyone's favourite beverage.
Hazards & Warnings
Warning: May be harmful if swallowed
Warning: Causes eye irritation