Car Gods Almighty Power Pre Wash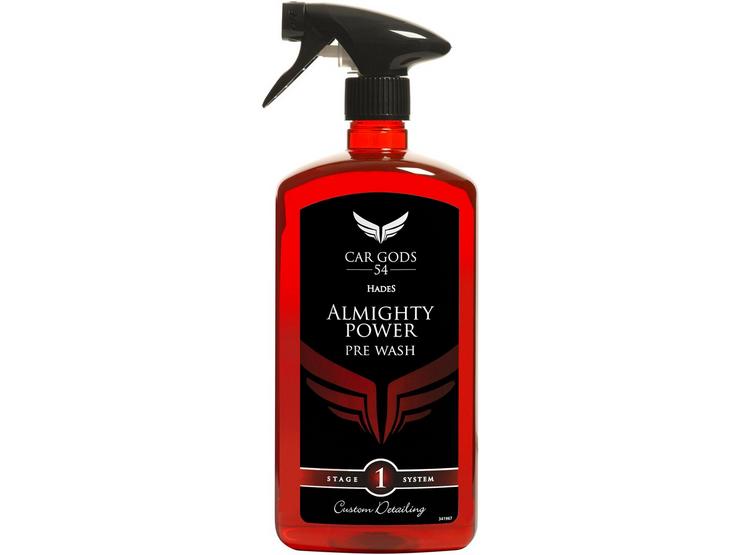 10 people are viewing now
5 purchases during last 48 hours
Car Gods Almighty Power Pre Wash
Loosens and removes stubborn dirt
Rinse away road grime easily
Corrosion inhibitors prevent damaging metal surfaced
Car Gods Almighty Power Pre Wash
Spray-on car pre wash
Loosens dirt to make washing easier
Prevents swirl marks during the contact wash
Corrosion inhibitors protect your metal surfaces from damage
Loosens bug deposits, adhesives, and other stubborn substances without damaging your paintwork
Suitable for use on all external surfaces, including paintwork, plastic, bare metals, carbon fibre and trims
1L spray bottle
Loosen stubborn grime ready for a through clean with the Car Gods Almighty Power Pre-Wash. It's perfect for all your car's exterior surfaces and captures dirt safely to prevent swirl marks during the contact wash.
For a thorough and professional-quality detail, a pre-wash stage is essential. It helps to remove stubborn grime that's stuck to your car's surfaces, which could cause damage if they're agitated during the contact wash.
The Almighty Power Pre Wash uses a simple spray-on formula to capture these contaminants and loosen them, ready to be rinsed away. This reduces the risk of swirl marks and marring during the contact wash, as well as making the entire clean much easier.
This car pre wash spray couldn't be easier to apply; just spray it onto a wet vehicle, wait a few minutes for it to effectively loosen the grime, then remove any particularly large deposits with a microfibre cloth or sponge before rinsing, ready for the hand wash.