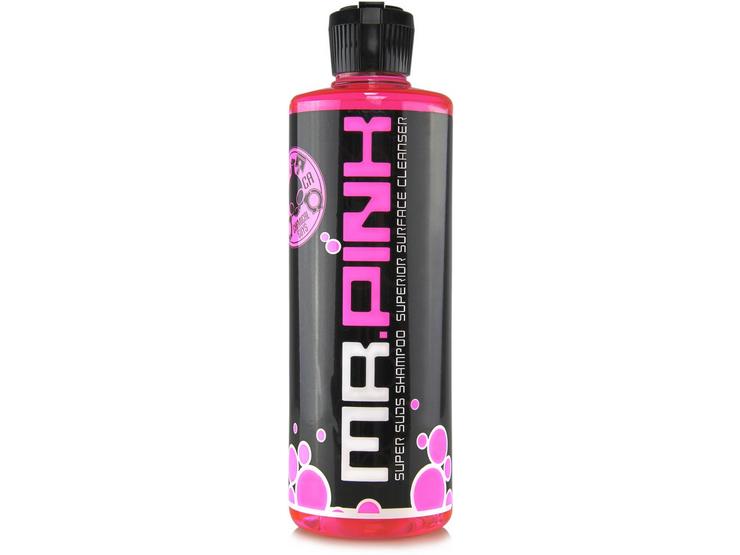 10 people are viewing now
5 purchases during last 48 hours
Cleaning Stage : Wash
Suitable For : Paintwork
Chemical Guys Mr Pink Super Suds Shampoo
The Chemical Guys Mr Pink Super Suds Shampoo is pH-balanced and gentle on all exterior automobile parts like paint, clear coat, polished metals, glass, and even vinyl, rubber, and plastic trim. Mr. Pink rinses clean after every car wash, leaving behind no residue for a truly clean surface every time. Mr. Pink is blended with super-slick polymers with hyper surfactants that lift, capture, and lubricate abrasive debris, allowing the surface to be gently wiped to minimize scratching and swirling. Choose Mr. Pink to help glide your wash mitt effortlessly over the surface for the perfect weekly wash or defects.
Features & Benefits:
Superior surface cleanser
Advanced foaming technology
Perfect for weekly maintenance car washes
pH-balanced: safe for wax and sealant coats
Perfect for two bucket wash, foam cannon, and foam gun
Rinses clean with no residue
Won't spot or stain in sunlight
Removes grime, build up and dirt
Usage direction:
Shake well and add 1 to 3 oz to 5 gallon bucket or 32 oz solution tank of foam cannon or gun.
Pre rinse vehicle to remove loose dirt and debris.
Foam cannon or gun: spray vehicle with thick wash foam to protect the paint against swirls and scratches.
Wash surface with wash mitt and soapy solution.
Rinse using clean water for perfect shine.
Dry with a premium microfiber towel.
Hazards & Warnings
Warning: May be harmful if swallowed
Warning: Causes eye irritation