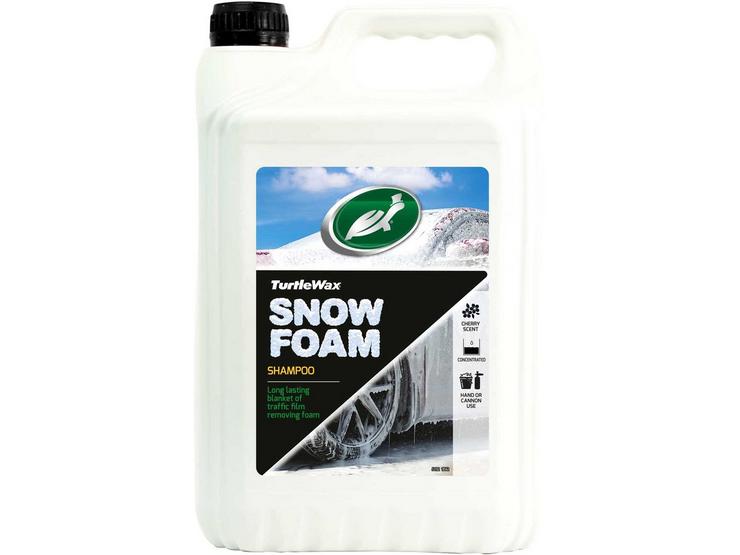 10 people are viewing now
5 purchases during last 48 hours
Bundles just for you
15% off a range of Turtle Wax Car Cleaning
Discount already applied.
Cleaning Stage : Pre Wash
Suitable For : Paintwork
Turtle Wax Snow Foam 5L
Turtle Wax Snow Foam shampoo delivers a next generation car cleaning experience. Use as foaming pre-wash or contact wash it will perform the hard work of cleaning for you by removing contaminants such as dirt, grime, traffic film and road salt that would otherwise be moved around the vehicle with a wash mitt causing minor scratches and swirl marks. The result is a car that truly sparkles, without streaks, ready to be dried and waxed for a knockout look. This is the perfect car wash If you live in an area with sandy soils. The incredible foaming action lifts and washes away those abrasive soils without damaging or scratching your car's finish.
Features & Benefits:
Thick foam blanket delivers awesome cling time of active detergents!
Active foam encapsulates traffic film, greases, oils and grime before lifting them from its surface giving true contactless cleaning
Advanced hydrophobic polymers for easier streak free rinsing
Rich cherry scent for awesome user experience during application
Advanced, hydrophobic formula rinses without streaks
Safe for all paint, tyres, wheels and trim
Auto Express – Product Awards Winner for 2020
Hazards & Warnings

Danger: Fire hazard; increased risk of explosion if desensitizing agent is reduced

Warning: Causes serious eye irritation