Autoglym Aqua Car Wax 500ml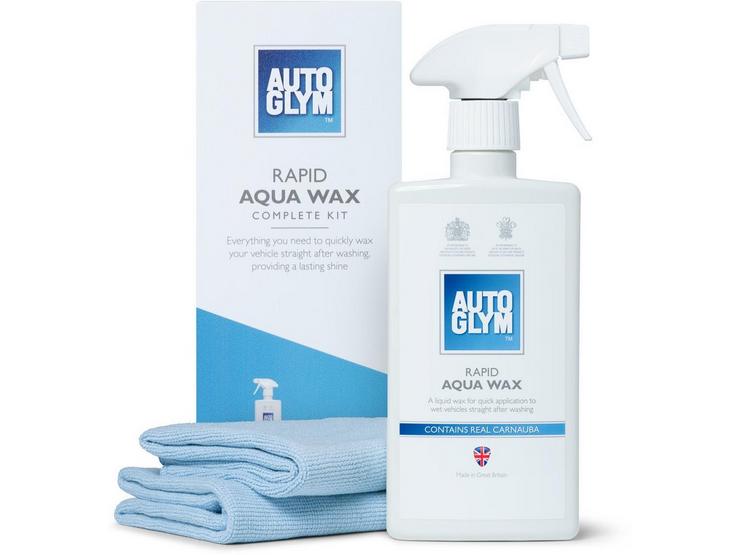 10 people are viewing now
5 purchases during last 48 hours
Autoglym Aqua Car Wax 500ml
Cleaning Stage : Polish/Wax
Suitable For : Paintwork
Autoglym Aqua Car Wax 500ml
Designed to give a brilliant smear-free finish, Autoglym Aqua Car Wax benefits you by working when the car is still wet and producing a high gloss in half the time. It can be used to protect all exterior surfaces, leaving your car with a dazzling shine. The immediate benefit is that there is no need to dry the car between washing and polishing.
Rapid Aqua Wax is the best kept secret in car care. Our carnauba based wax can be applied directly to a wet vehicle straight after washing, giving you a stunning hard wax finish in just a fraction of the time.
Aqua Wax is not a polish, so will not remove or improve the appearance of scratches, swirls or dull paint.
Features & Benefits:
500ml bottle with a microfibre towel
Durable real wax finish in half the time
Can be applied even when the car is wet
Contains carnauba wax for durable protection
Suitable for all paint types, rubber, plastic & glass
Auto Express Best Buy 2011
Imparts a brilliant smear-free finish on all exterior surfaces
Use and Care:


1) Wash the vehicle with an Autoglym Shampoo and leave wet.
2) Shake well and apply Rapid Aqua Wax sparingly to all exterior surfaces excluding the windscreen. 2-3 sprays per panel are sufficient.
3) Use the first clean microfibre cloth to spread Rapid Aqua Wax until there is an even coating over all surfaces.
4) Buff to a shine with the second clean, dry microfibre cloth.
5) Stand back and admire.
Additional Note: