Turtle Wax - Wax & Dry Spray Wax 500ml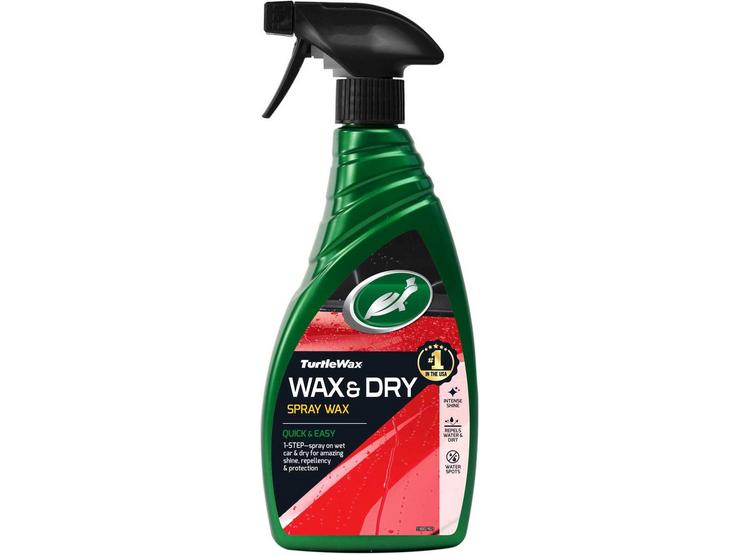 10 people are viewing now
5 purchases during last 48 hours
Turtle Wax - Wax & Dry Spray Wax 500ml
Cleaning Stage : Polish/Wax
Suitable For : Paintwork
Turtle Wax - Wax & Dry Spray Wax 500ml
Incredible shine, gloss, and depth of color from carnauba wax​
Easy on, easy off without streaking​
Combines two steps in your wash and wax routine to save you time and money maintaining your car​
Advanced drying agents repel water from wet surfaces to cut back on drying time​
One-step, spray-and-wipe solution makes it easy for anyone to achieve a spotless car detail​
Turtle Wax Wax & Dry spray wax
saves you time and effort to make car care just that: quick and easy. Skip an entire step in your wash and wax routine by spraying this powerful product onto wet surfaces to speed up dry time while leaving a layer of smooth, glossy car wax on your car exterior. Our simple, spray-on solution does most of the work, giving you more time to enjoy your car's fast and flawless finish.​
As you dry, the wax bonds to the paint surface and begins displacing water. By the time your car is dry, your car will have an incredible, reflective gloss and long-lasting protection against the elements.
Use and Care:
1) Wash and rinse your car with your favourite Turtle Wax car wash product.
2) While the car is still wet, immediately start at the roof, working down the car, applying Wax It Wet to all exterior surfaces, including glass, plastic and rubber trim.
3) After thoroughly spraying the exterior, water will begin beading and may run off the car.
4) Using a microfibre cloth or soft, cotton terry towel, simply dry the vehicle. The wax will set as you dry, producing an extremely glossy shine on all exterior surfaces, including paint, plastic and glass.