Turtle Wax Hybrid Solutions Ceramic Wash and Wax 1.42L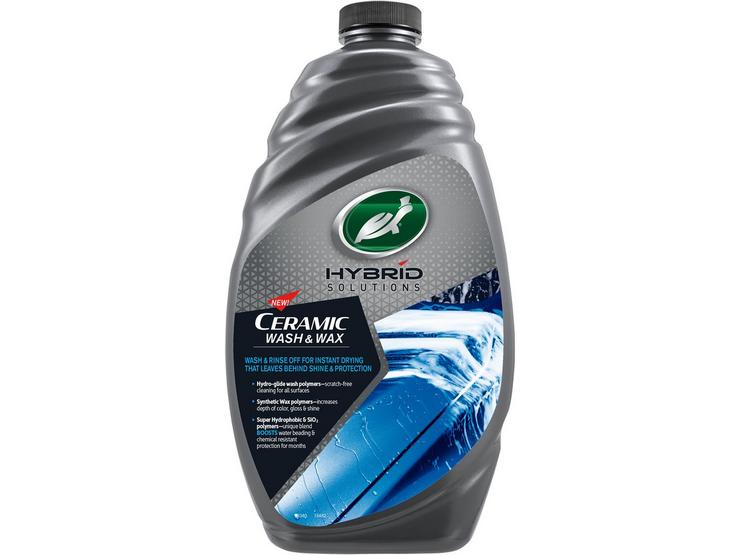 10 people are viewing now
5 purchases during last 48 hours
Turtle Wax Hybrid Solutions Ceramic Wash and Wax 1.42L
Turtle Wax Hybrid Solutions Ceramic Wash and Wax 1.42L
Turtle Wax® Hybrid Solutions Ceramic Wash & Wax provides more protection with less drying time. Formulated with super hydrophobic and SIO2 polymers to boost water beading and chemical resistant protection for months.
Features & Benefits:
Wash, Shine and Protect in Less Time: Scratch-free cleaning for all surfaces that leaves behind a brilliant shine with chemical resistant protection that lasts for months.
Enhanced Ceramic Protection: Super Hydrophobic & SiO2 polymers creates a durable barrier for both coated and uncoated cars. Our unique blend boosts water beading and sheeting, saving tons of time while drying.
Super-Concentrated: Less is more! For routine cleaning, 3fl.oz of Wash & Wax per 4 litre of water.
Buildable Coverage: Re-washing and or regular cleaning adds additional layers of protection, repelling water and contaminants.
Brighten Trim: Enhances the appearance and adds shine to exterior plastic and trim.
Signature Scent: Hybrid Solutions collection features a sweet fruity fragrance that is a delight to the senses.
Use and Care:


1) Shake product well for optimum performance
2) Pour three to four capfuls of ceramic car wash and wax into a gallon-sized bucket of water
3) Start by rinsing your car with a hose from top to bottom to dislodge any loose soils and residues
4) Mix and activate soap and water solution with a powerful stream of water or a car wash mitt until solution becomes thick and foamy
5) Starting from the top down, scrub and rinse your car in small, 2' x 2' sections, one section at a time so that soap doesn't dry on your car. Avoid washing surfaces that are hot to the touch in direct sunlight to prevent water spotting on your car's finish
6) When you have washed and rinsed all sections of your car, dry with a clean, microfiber towel or using a blower
Hazards & Warnings

Danger: Causes serious eye damage
: Harmful to aquatic life with long lasting effects