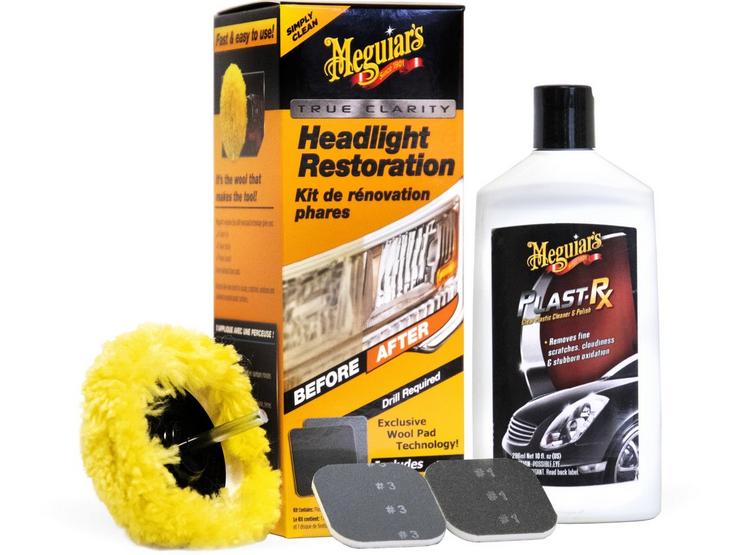 10 people are viewing now
5 purchases during last 48 hours
Cleaning Stage : Decontamination
Suitable For : Paintwork
Meguiars One Step Headlight Restoration Kit
The Meguiar's Headlight and Clear Plastic Restoration Kit restores like-new clarity to cloudy, scratched, oxidized and yellowed, uncoated plastic surfaces. Meguiar's unique Plast-RX formula works in tandem with our unique buffing pad and your drill to safely deliver amazing results in just minutes! With this kit, you require no extra steps, complicated solutions or sanding with abrasives that can damage plastic and surrounding paint and trim.
This Restoration Kit effectively removes fine scratches, surface contaminants, oxidation, cloudiness and yellowing, leaving plastics brilliantly clear and polished from headlights, brake lights, plastic convertible windows, motorcycle windscreens, helmet face shields, boat windows and more!
Features & Benefits:
Plast-RX (118ml)
Drill-operated Easy Buff wool pad
Stubborn defect removal pack
Works superbly on any type of plastic
Included in kit: 6 fl oz PlastX, Easy Buff Pad
Recommended for use on mildly damaged headlights
Good on old or new lights
Application:
1) Attach the Meguiar's Drill Operated Easy Buff Wool Pad to your drill (refer to drill manufacturer's directions for proper attaching instructions).
2) Apply a pound-sized amount of Plast-RX to the pad and place flatly on the surface to be restored. While spreading the product on the headlight, start the drill slowly to help prevent product sling. Once at full speed, keep the pad moving using slow overlapping passes in multiple directions. Reapply Plast-RX as needed.
3) Remove the product from the headlight with a clean microfibre, before it has a chance to dry.
4) Apply a small amount of Plast-RX on a clean microfibre and buff off any remaining residue.
5) If oxidation & defects remain, use the "Stubborn Defect Removal Pack" that is inside the kit.