Yiannimize Decontaminate & Iron Remover 500ml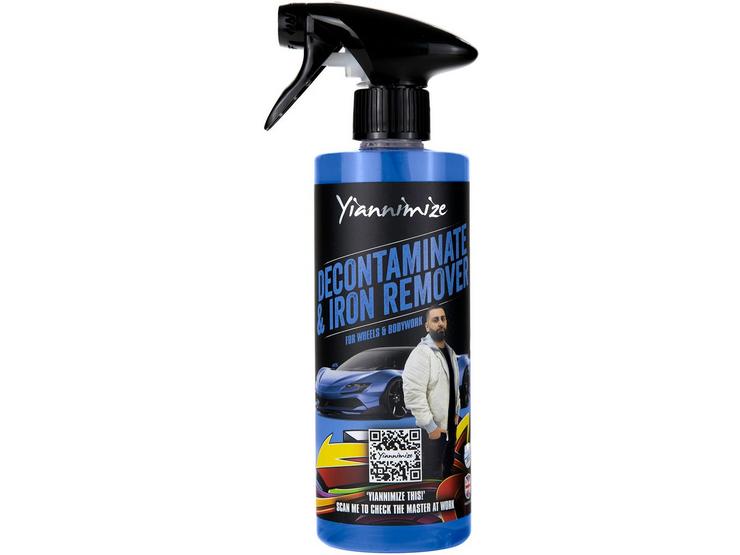 10 people are viewing now
5 purchases during last 48 hours
Yiannimize Decontaminate & Iron Remover 500ml
Size : 500ml
Cleaning stage : Wash
Suitable for : Exterior/Alloys
Yiannimize Decontaminate & Iron Remover
Formulated by Yiannimize and made in Great Britain
Specially formulated to work on all wheel types and bodywork
Suitable for all paintwork including Gloss, Matte Finishes, Wraps and PPF
Acid-free/pH neutral, ideal for removing brake dust and irons/metals
Active ingredients will turn red as they react when working on contaminated and iron-embedded surfaces
Rapid action for a complete clean on all external paintwork and alloys
Heavy metal magic! The
Yiannimize Decontaminate & Iron Remover
, formulated by Yianni, is Acid-free, pH neutral and ideal for removing brake dust, irons and other metals of alloys and bodywork. Active ingredients in the Yiannimize Decontaminate & Iron Remover will react when it is working and will turn red when they react with iron particles.
Formulated by the guru, Yianni himself, the brief was clear…"Design and create the very BEST Decontaminate & Iron Remover that is suitable for ALL car types including Gloss, Matte and Wraps". Of course, Yianni doesn't mess about, waste time or resources, so neither did the team. This all powerful Decontaminate & Iron Remover contains active ingredients that will react when they come into contact with iron and as a result will turn red. Ideal for alloys, wheels and body work and perfect for daily use.
Usage directions
Spray directly onto alloy wheels or bodywork
Allow to soak in until the wheel bleeds and gently agitate with a brush if needed
Use a strong jet of water to rinse, repeat if required
Yianni's Top Tip
Use Yiannimize Light Polish on the
Formulated by Yiannimize and made in Great Britain
Specially formulated to work on all wheel types and bodywork
Suitable for all paintwork including Gloss, Matte Finishes, Wraps and PPF
Acid-free/pH neutral, ideal for removing brake dust and irons/metals
Active ingredients will turn red as they react when working on contaminated and iron-embedded surfaces
Rapid action for a complete clean on all external paintwork and alloys
rims to protect and seal your wheels and reduce surface contamination.
Hazards & Warnings

Warning: Harmful if swallowed

Warning: Causes skin irritation

Warning: May cause an allergic skin reaction

Danger: Causes serious eye damage