Autoglym Rapid Ceramic Spray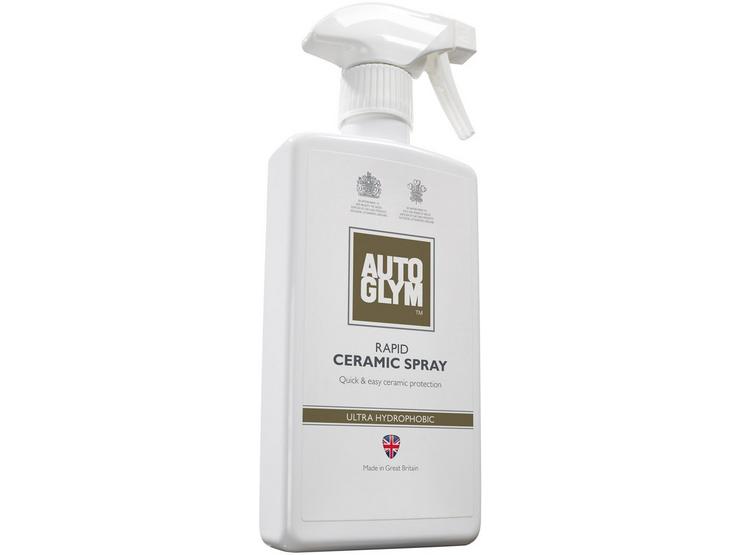 10 people are viewing now
5 purchases during last 48 hours
Autoglym Rapid Ceramic Spray
Cleaning stage : Protectant
Suitable for : Paintwork
Autoglym Rapid Ceramic Spray
The Autoglym Rapid Ceramic Spray is a quick and easy way to add protection to your paintwork. Unlike others when applying ceramic protection, it often takes time to achieve the best results. Useable on a wet or dry vehicle, the ceramic hybrid formula swiftly bonds to the paintwork with a simple spray and microfibre buff. The tropical-scented coating product offers up to three months of durable hydrophobic protection, and the unmistakable deep gloss finish will make your car stand out from the crowd.
Features & Benefits:
Quick and easy spray and buff formula
Can be used on wet or dry paintwork
Enhances the deep gloss finish with a wet look
Protection lasts up to three months
Highly hydrophobic protection that sheets water in seconds
Comes with a tropical scent
Application:
Additional Note:
View the Safety Data Sheet

How to use:

Do not apply in direct sunlight or if paintwork is warm to the touch. For best results do not apply in temperatures over 25°C. Can be applied to wet paintwork but for maximum durability apply when dry.
Step 1: Wash the car thoroughly and remove any fallout with Magma or Clay Detailing Complete Kit.
Step 2: Shake well. Work on wet or dry painted surfaces in an area no larger than a shoulders width apart. For dry cars: Spray sparingly directly onto paintwork or onto a clean microfibre cloth or applicator and spread. For wet cars: Spray sparingly directly onto paintwork and spread with an Autoglym InstaDry. Two to three sprays per panel is sufficient, no more than two on smaller panels.
Step 3: Take a clean Hi-Tech Microfibre Finishing Cloth and buff to a high gloss before moving to another area of paintwork. Use additional cloths as required.
Step 4: A second coat may be applied, allow 24 hours between applications.