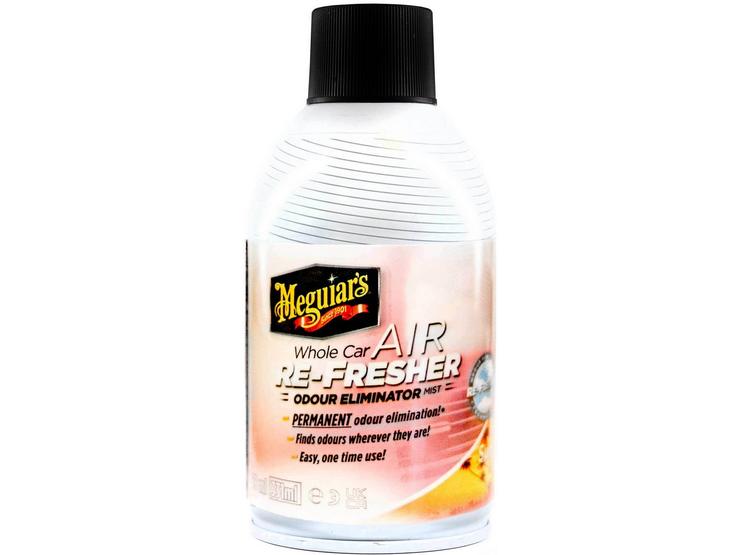 10 people are viewing now
5 purchases during last 48 hours
Meguiar's Air Re-Fresher Fiji Sunset
Permanent odour removal: Permanently eliminates odors on a molecular level. Removes bad smells like cigarette smoke, wet dog, workout gear and more
One-time use: Simple one-time-use aerosol refreshes every corner of your car's interior
Air Re-fresher: Aerosol mist moves through the ventilation system, across the headliner and in between all other hard-to-reach areas, eliminating odors and leaving a pleasant scent in its place
Easy to use: Simply turn the AC on high, hit the recirculate button, activate the Re-Fresher and close the doors for 10-15 minutes. Then open all doors and air out for 10-15 minutes
Fiji Sunset Scent: Leaves behind a tropical fresh scent
Meguiar's advanced Re-Fresher technology not only removes unwanted odours wherever they hide, but also replaces odours with a pleasant new car scent that lasts for weeks.
Meguiar's Whole Car Air-Re-Fresher penetrates the complete interior by moving through the ventilation system, across the headliner and in-between all other hard-to-reach areas.
NB.
This is a one-time use aerosol.
Hazards & Warnings

Danger: Extremely flammable aerosol
Warning: Pressurized container: may burst if heated