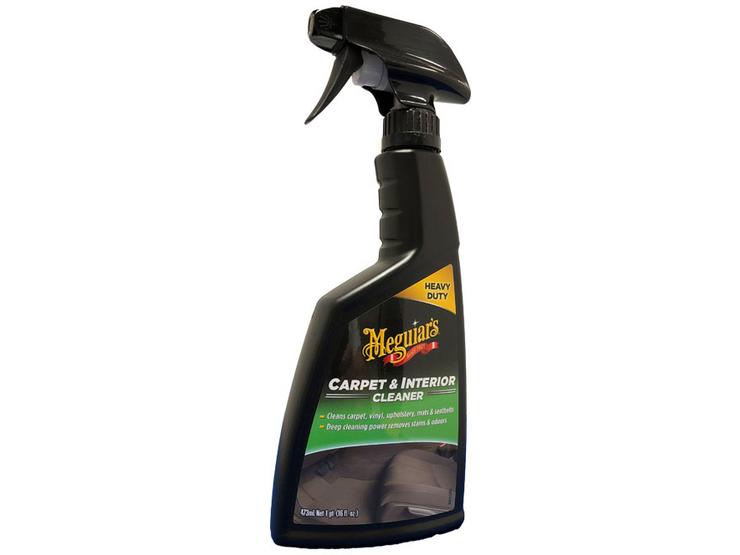 10 people are viewing now
5 purchases during last 48 hours
Cleaning Stage : Interior
Suitable For : Upholstery
Meguiar's Carpet & Interior Cleaner
This advanced biodegradable formula removes grease, coffee, lipstick, oil and other tough stains from carpets and upholstery. Unlike ordinary household cleaners, the Meguiar's Carpet and Interior Cleaner cleans the most stubborn marks, without discolouring the surface.
It removes stains forever because it leaves no sticky residue to attract fresh dirt. Not only are the stains removed, but the smells associated with them are also eliminated.
For best results, work the cream onto the fabric with Meguiar's X3080EU Even Coat Microfiber Applicator Pad. Then wipe with a clean Meguiar's X2020EU Supreme Shine Microfiber Towel.
Features & Benefits:
Quickly breaks down and removes both oil and water-based stains
Just spray and wipe - no vacuuming required
Dries quickly, without discolouring or leaving a sticky residue behind
Great for cleaning carpets, vinyl, upholstery, mats and seat belt straps
Safe on the skin, all car surfaces and for the environment
Professional-strength carpet, fabric and upholstery cleaning with deep cleaning power to remove staining and odours
Leaves carpets and upholstery looking and smelling fresh and feeling like new
Hazards & Warnings

Warning: Causes skin irritation

Warning: Causes serious eye irritation