Meguiars Ultimate Wheel Cleaner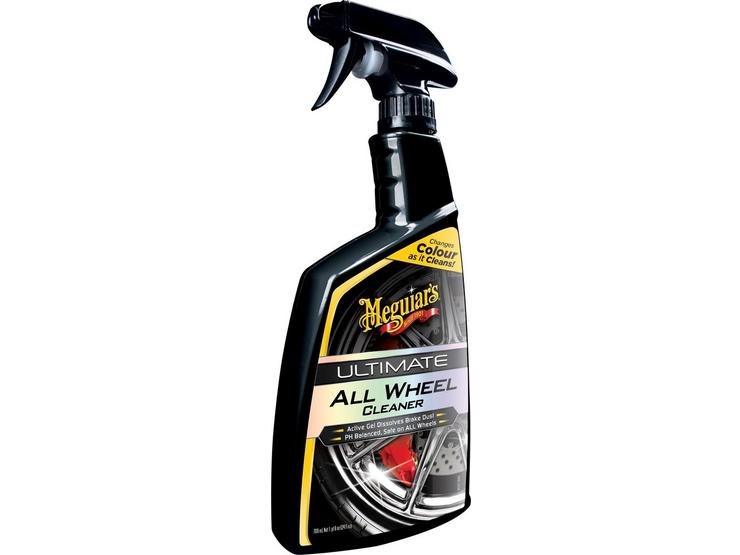 10 people are viewing now
5 purchases during last 48 hours
Meguiars Ultimate Wheel Cleaner
Cleaning Stage : Wheels
Suitable For : Wheels and Alloys
Meguiars Ultimate Wheel Cleaner
Meguiar's Ultimate All Wheel Cleaner is Meguiar's most advanced wheel cleaner with an emphasis on delivering the strongest and best cleaning ability, but making sure it's also the safest wheel cleaner at the same time. On a chemical level it targets brake dust while loosening dirt and grime allowing for little to no agitation.
This active gel formula clings onto the wheel staying wetter longer so that you get better cleaning action than traditional foaming wheel cleaners. Since this formula is pH balanced and acid free you don't have to worry about it causing damage as it's safe and effective no matter what wheel type or finish you are working with. It's even safe on polished and uncoated aluminium wheels and painted brake components.
To use Ultimate All Wheel Cleaner, you always want to make sure that the wheels and brake components are cool to the touch, and that you are working in the shade. Unlike many wheel cleaners, you don't want to pre-rinse your wheels.
Spray the Ultimate All Wheel Cleaner liberally over the entire wheel and let it dwell for 2-4 minutes, but don't let the product fully dry. Spray off with a powerful stream of water and thoroughly dry the wheels to prevent water spotting.
Keep in mind that if the wheels are really dirty or neglected you may need to agitate with a gentle brush. If you want a wheel cleaner that delivers powerful cleaning ability and is safe and gentle on all wheel finishes Meguiar's Ultimate All Wheel Cleaner is ready to give the ultimate results.
Features & Benefits:
Active gel quickly dissolves heavy brake dust
Tough on road grime and dirt
Acid free and pH balanced, safe for all wheel finishes
Changes colours as it cleans
Delivers powerful cleaning on all wheel finishes
No foul smell
Gel formulation clings for longer working times
Gel turns brown on contact with road grime
Gel turns purple on contact with ferrous contamination
Suitable for use on painted brake components
Ensure wheels are cool to the touch
Spray liberally onto the wheel face & brake disc
Agitate with a brush if necessary
Rinse with a jet of cool, clean water to reveal sparkling rims!
Hazards & Warnings

Warning: Harmful if swallowed

Warning: May cause an allergic skin reaction

Warning: Causes serious eye irritation