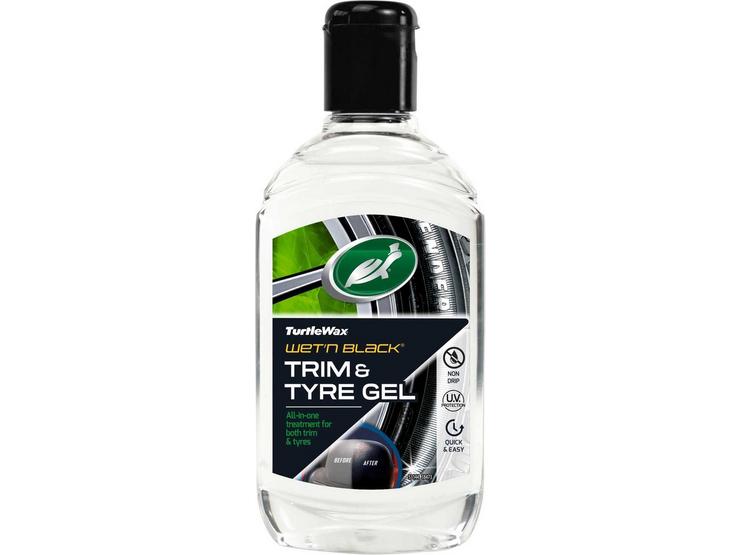 10 people are viewing now
5 purchases during last 48 hours
Cleaning Stage : Dressing
Suitable For : Wheels and Alloys
Turtle Wax Wet N Black Tyre & Trim Gel 300ML
Turtle Wax Wet N Black Trim & Tyre Gel is an all-in-one treatment to restore both tyres and trims back to their original rich black appearance.
This thick tyre gel penetrates deep into the rubber of your tyres for a longer-lasting shine, protection against crazing and cracking and extreme durability that stands up to rainstorms and car wash after car wash.
Wet 'N' Black is ideal for use on modern, low-profile tyres because you control where you apply the thick gel. You don't have to worry about over spraying foam onto your wheels or wasting product on the ground as you might with other cleaners on low-profile tyres.
Also, while this is a tyre gel, it's safe for use on all black plastic, vinyl and rubber surfaces. Use it to bring back the original, glossy look of faded black car trim.
Conventional trim restorers are water-based silicone emulsions. Most will dissipate with rainfall or detergent car washings. They lose their shine very quickly. This is not the case for Turtle Wax Tyre & Trim Gel.....results last for weeks not days!
Features & Benefits:
A proprietary blend of silicones and solvents ensures that the deep rich shine lasts for weeks in the harshest of weather conditions
Blended UV inhibitors protect surfaces from drying, fading and cracking
Water resistant formulation delivers amazing durability for long lasting results
Suitable for all exterior plastic trims, rubber, vinyl and tyres
Viscous gel formula for maximum cling and easy non-drip application
All-In-One Treatment To Restore Both Tyres And Trims Back To Their Original Rich Black Appearance
Dry to the touch in minutes ensures no tyre sling
The bottle features a flip cap for controlled dosing and ease of application
User direction:
Wash and dry your vehicle tyres. Make sure to remove all grease, previously applied dressings and any browning on the sidewall, using a tyre-specific cleaner if required
Apply a half-inch circle of the product to the centre of a foam applicator
In a gentle, circular motion, apply the gel in an even layer over the entire sidewall of the tyre
Use a microfiber towel to remove any excess product
Allow at least 15 minutes for the product to set and dry before you drive the vehicle
Additional Note:
For that extra level of wet look tyre shine wait for the first application to fully dry then repeat application as first directed.
To remove any misguided application onto paintwork or glass etc. remove using a clean damp cloth and some strong detergent.