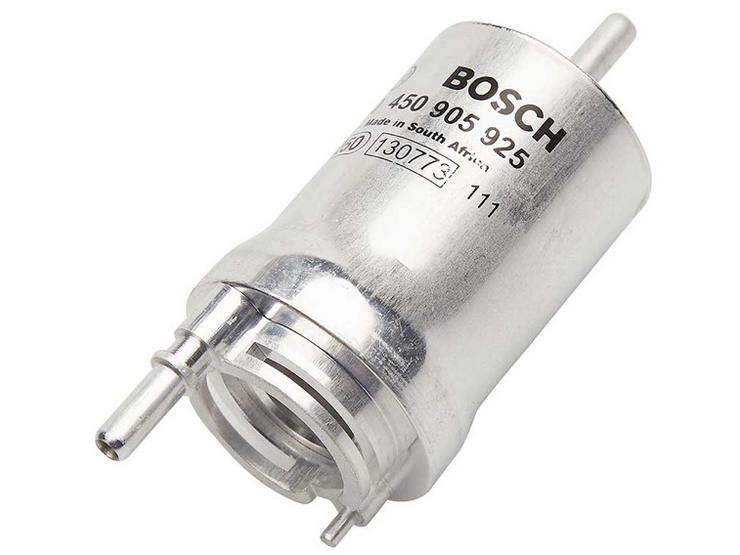 10 people are viewing now
5 purchases during last 48 hours
Bosch Fuel Filter
The fuel filter is found along the fuel lines, either in the engine compartment or underneath the vehicle by the fuel tank. The job of the fuel filter is to trap any large foreign particles in the fuel and stop them from getting into the engine. With the force of the fast up-and-down motion of the pistons (which compress the air-fuel mixture so it will burn more efficiently), if any large particles manage to get in the fuel, this could cause some serious damage to the engine. So, maintaining a clean fuel filter is important to the performance of a vehicle's engine.Replacing the fuel filter periodically (every year or so) for preventative maintenance can reduce the risk of filter-related driveability problems; by the time a vehicle is six or seven years old, there can be a fair amount of rust and debris in the fuel tank. Rust can be formed by moisture and condensation, and debris can get into your tank anytime you add fuel. So changing it on a periodic basis can help minimize the risk of plugging. Most vehicle manufacturers, however, no longer specify a replacement interval for the fuel filter. Or, if they do it's some incredibly long interval like once every five years or 50,000 miles. Many mechanics feel this is unrealistic and waiting that long to change the filter is asking for trouble.It is recommended by some mechanics that you should change your fuel filter once a year. But, to be on the safe side you should definitely do it at least every two years. However, if you live in a high-pollution area, or if you drive your vehicle more than the average person, then it will need more attention.
If you need to return an item we'll happily offer a refund as long as this is within 28 days of delivery, in its original packaging and you have proof of purchase.
There are several easy ways to return your item(s):
FREE in-store returns*
by post
You can return an item for FREE to a Retail store, but if you choose to return by post you'll need to cover the cost of postage. However, if the item you're returning is faulty we'll refund the postage once we've received the item and checked the fault.
For more information on our Returns Information, including our Courier service, please visit: Returns Information | Halfords UK
Print a returns note form here.
* Please don't forget your proof of purchase. We may need to verify the serial number on your receipt against the serial number on the item being returned.