Disklok Steering Lock (Silver) Small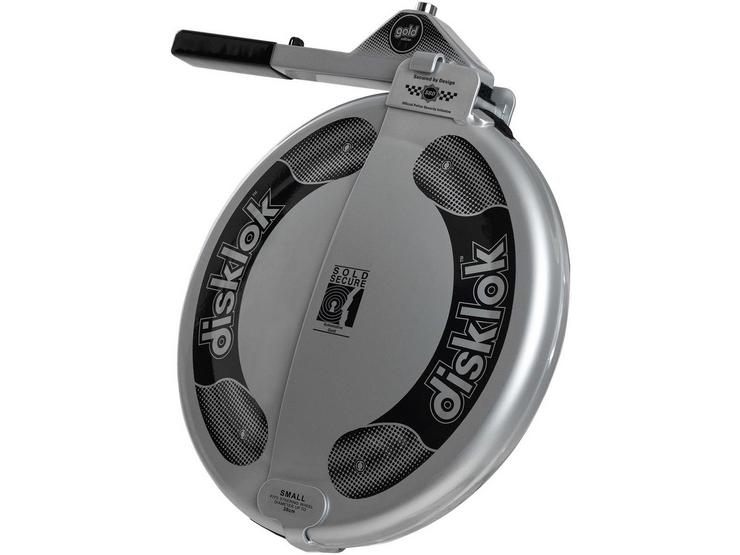 10 people are viewing now
5 purchases during last 48 hours
Disklok Steering Lock (Silver) Small
Guarantee : 3 Years
Sold Secure Rating : Gold
Anti-drill and anti-pick lock
Disklok Steering Lock (Silver) Small
Disklok is one of the UK's most-trusted car security brands, priding themselves on a market-leading range of award-winning steering locks that are both an excellent deterrent and incredibly hard to remove.
Full-cover car security Disklok prevents the steering wheel from being cut during instances of the removal of security lock.
The Disklok Steering Lock builds on this reputation with a unique design and exceptionally durable build materials, earning itself the position of 'the UK's strongest steering wheel lock'. It not only prevents traditional vehicle theft, but also protects the vehicle from advanced theft techniques like key cloning and keyless entry thefts.
Features & Benefits:
The strongest steering wheel immobilizer which provides the best protection
Thatcham approved, category 3
Covers the entire steering wheel
Spins on attack to prevent the steering wheel from being turned
Police preferred specification (secured by Design accreditation)
Easy to fit and remove with key
Highly visible to improve deterrent factor
Anti-drill and anti-pick lock
Possible insurance discount from certain brokers
3 years manufacturer's warranty
Prevents airbag theft
Supplied with 3 keys and a number tag
Warranty Information:
3-years Manufacturer's warranty
Additional Note:
Exceptional endurance

Turn your vehicle into Fort Knox with this ultra-secure steering wheel lock from Disklok. Covering the entire steering wheel, this ultra-durable steering wheel lock uses a mixture of hardened materials to create a lock that is incredibly difficult to remove, even with the help of power tools and cutting equipment. This is why it has achieved a 'gold' rating from Sold Secure, as well as the 'UK's strongest steering lock' title.



Which size steering wheel lock do I need for my car?

Use the above as a guide, we always recommend to measure the diameter of your wheel to determine the model you require.


Innovative features

The Disklok steering lock guards against various theft techniques. The whole lock spins on attack, preventing the steering wheel from being turned with the lock still in place and also helping to stop the car's built-in steering wheel lock from being broken. The Disklok steering wheel lock also helps to guard against modern theft techniques too, including defence against keyless entry workarounds and car key cloning. The steering lock also prevents air bag theft and may even allow car owner's to benefit from an insurance discount depending on which insurance provider they are with.


Visible deterrent

A silver finish helps the Disklok steering wheel lock to match many car interior colour schemes, but also makes the steering lock highly visible, putting thieves off from the first moment they see it.

Looking for more car security products or just need some help and advice? Check out our Car Security Buyer's Guide for more information.


Easy to use

Despite being extremely difficult to remove for thieves, the Disklok steering wheel lock is very easy to fit and remove if you have the key to the anti-drill, anti-pick lock that makes Disklok steering wheel locks even harder to remove for thieves. It also comes supplied with 3 keys and Disklok offer a replacement key service for extra reassurance.

Disklok steering wheel locks are designed to be ultra-durable, but they'll also survive daily use without wearing out, which is why you'll get a 3 year manufacturer's warranty with this steering wheel lock.
Additional car security
The Disklok Steering Lock does a great job of slowing thieves down, but when paired with other car security products, your car will become extremely difficult to steal. A simple security light on a driveway can send thieves running, so install a Smartwares 1000 Lumen Security Light to keep intruders uninterested. Make things even harder by combining your Disklok Steering Lock with a Bulldog Euroclamp Security Wheel Clamp too, putting another bit of heavy-duty hardware between the thief and your vehicle.

If you need any further help or advice on which car security product to buy, remember you can always ask one of our car security experts at your local Halfords store. We'll be more than happy to compare products and even help you to fit your new Disklok steering wheel lock for the first time.