Halfords RFID Key & Phone Blocker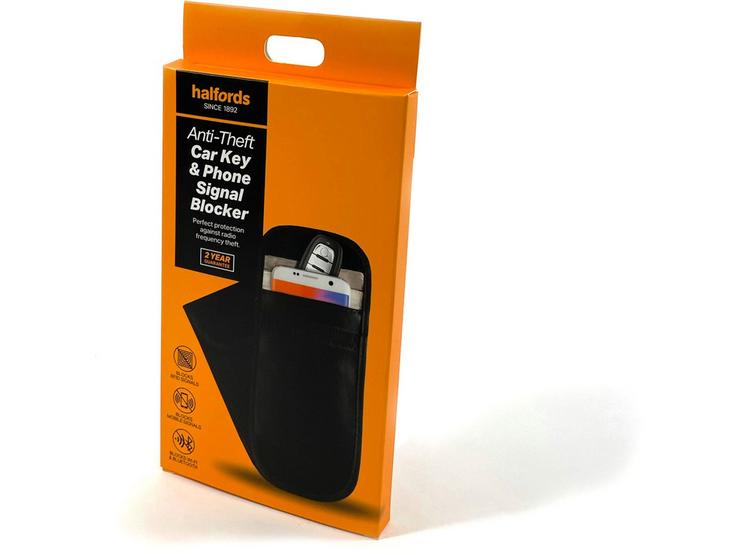 10 people are viewing now
5 purchases during last 48 hours
Halfords RFID Key & Phone Blocker
Halfords RFID Key & Phone Blocker
Blocks Wi-Fi, 4G, GSM, LTE, NFC, RFID signals
Ideal for mobile phones, key fobs, security access cards
10cm x 19.5cm (All dimensions are approximate)
The Halfords RFID Key & Phone Blocker also known as a Faraday Wallet, is the perfect protection for car keys and electronic key fobs against radio frequency theft. Its signal blocking capabilities include Wi-Fi/4G/GSM/LTE/NFC and RFID.
After being enclosed in the pouch, no signal can penetrate from outside or be hacked from the inside. Ideal for mobile phones, smart automobile key fobs, building access key fobs, Security/Access cards, smart watches, thumb-drives, Wi-Fi cards, garage remote and many smaller electronic devices.
There are two pockets for your convenience. The back (larger) pocket provides the protection for your car keys and must completely cover your key. The front (smaller) pouch can be used for other items that don't require as much protection.
Warranty Information:
Please Note:
Effective use of this RFID case will also depend on the size of your mobile phone. All dimensions are approximate, the application for phones will vary on phone size.