iTrack Mini Wireless GPS Tracker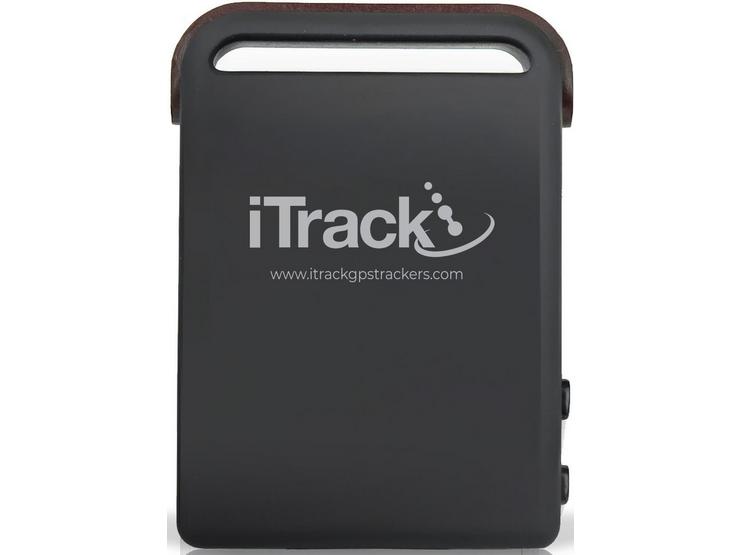 10 people are viewing now
5 purchases during last 48 hours
iTrack Mini Wireless GPS Tracker
iTrack Mini Wireless GPS Tracker
The iTrack Mini GPS Tracker is the perfect device for monitoring the position of your vehicle, bike, vulnerable family members or any other asset you want to track – the applications really are endless! The lightweight and compact design of the iTrack Mini GPS Tracker makes it ideal for covertly placing in a vehicle or saddle-pack, and the magnetic back cover allows for effortless fixing to metallic surfaces.
The device can either send instant on-demand Google Maps location reports via SMS, or alternatively you can use the iTrack Live GPS tracking platform to monitor your assets in real-time online using the free smartphone app (search iTrack Live). All trackers are supplied with a free 14-day trial subscription to iTrack Live. After the trial period ends, you will need to purchase an annual subscription via the tracking platform (£20/year). Historical tracking data will be saved in the cloud for 90 days, allowing you to look where your vehicle has been and observe driving speeds, idle times and simulated route repeats. All trackers are supplied with a FREE O2 SIM card that can simply be topped up using any phone. You can also use any other 2G compatible SIM card with iTrack GPS Trackers.
The tracker is supplied with 2x rechargeable batteries and a charger, allowing you to charge one battery while the other is in use. A hard wire kit is available to purchase separately which allows the user to connect the device to an external power source (such as a vehicle battery), thus eliminating battery life restrictions. A comprehensive Additional Note is included as well, besides our handy 'Quick Start Guide' with complicated jargon removed to make it extra simple. The operation & set-up of the device is very easy and it can be fitted in seconds without the need for any tools or expert knowledge.
Can be used as a GPS tracker for children or vulnerable family members:
For ultimate piece of mind, simply place the tracker in your children's bag, and rest assured of your child's or other family member's safety 24/7. Also great for taking with you on a long hike – don't forget to give your loved ones the number of your tracker so they can locate you via SMS in the event of an accident.
Real-time live GPS tracking:
You can configure the iTrack Mini GPS Tracker to send regular location updates as frequently as every 10 seconds. Simply create a user account on iTrack Live. Then configure your device to work in live tracking mode and you can monitor your asset 24/7 in real-time on a PC, tablet or smartphone. This method of GPS tracking uses megabytes of data and typically costs less than 50p per month using the O2 SIM card included with the tracker.
Use the GPS tracker as a listening device:
The tracker has an in-built microphone, so you can even use the iTrack Mini GPS Tracker as a listening device. Note: When in listening mode, the GPS function will not work.
Simply call the tracking device from your mobile phone and the GPS tracker will answer the one-way call discretely, allowing you to listen.
SMS Tracking:
With the iTrack Mini GPS Tracker, in SMS tracking mode, you can receive a text message to your phone with a full location report, including a link to Google Maps, so you can see on a map where your asset is within 5 metres.
Simply call the tracker from your mobile phone, wait a few seconds and the device will send you a location report via SMS with a Google Maps image showing exactly where the tracker is.
Each time the tracker sends a location report, the cost of a text message will be deducted from the SIM card balance. Note: The SMS charges are 2p per text using Classic O2 SIM supplied with the tracker.
Features & Benefits:
Real-time live GPS tracking
iOS/Android app available
Manage multiple assets within the same tracking iTrack Live GPS tracking platform, allowing you to see all your assets on a single map
Use GPS tracker as a listening device
Geofence feature allows user to be notified when asset moves in/out of a specified boundary
Shock sensor technology allows user to be immediately notified via SMS if the asset detects any disturbance
Easily transferable between vehicles/assets
O2 SIM card included
Dimensions: 66mm x 46mm x 17mm
Weight: 60g
Battery: Chargeable/Changeable 3.7V 800mAh Li-ion battery
Battery Life: 80 hours (approx.)
Network: GSM/GPRS
Quad Band: 850/900/1800/1900 Mhz
GPS Chip: SIRF3 chip
GPS Sensitivity: -159 dBm
GPS Accuracy: 5m
Car charger: 12V – 24V input / 5V output
Wall Charger: 110V – 220V input / 5V output
Operating temp: -20 – 55 degrees Celsius
Buttons: 1 SOS, 1 power on/off
Warranty Information: