Stoplock Pro Elite Steering Wheel Immobiliser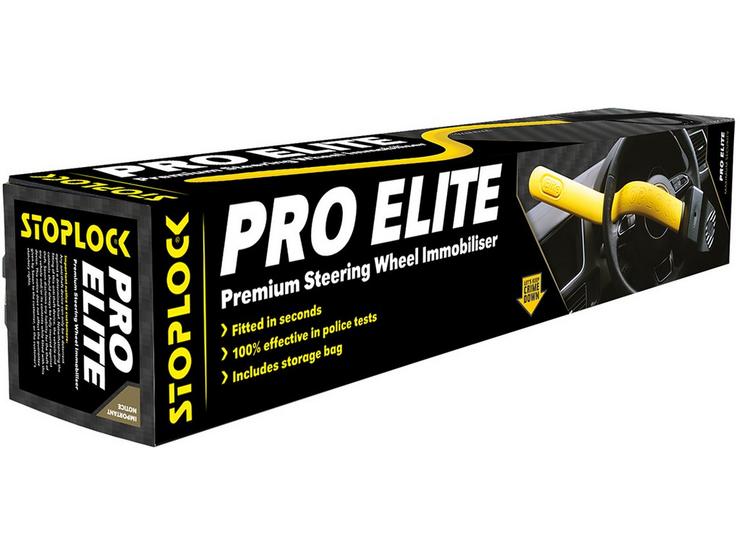 10 people are viewing now
5 purchases during last 48 hours
Stoplock Pro Elite Steering Wheel Immobiliser
Guarantee : 5 Years
Sold Secure Rating : Gold
Stoplock Pro Elite Steering Wheel Immobiliser
A prominent industry leader for over 30 years, Stoplock is one of the UK's leading car security brands, offering a range of high-quality, high-performance steering wheel locks designed to offer maximum security for a wide range of vehicles.
Their top-of-the-range model, the Stoplock Pro Elite Steering Wheel Immobiliser applies this vast amount of experience to create a steering lock that will both deter and protect every time.
More about the Stoplock Pro Elite Steering Wheel Immobiliser
A strong visual deterrent
Making your car less appealing to criminals is an easy way to protect your car from theft, and the Stoplock Pro Elite Steering Wheel Immobiliser is a formidable deterrent to even the most skilled criminals. Highly visible from outside the vehicle thanks to the bright yellow finish, thieves may opt to look for an easier target when they see this heavy duty bit of car security kit.
Unbeatable endurance
Even if thieves do decide to give it a go, the Stoplock Pro Elite is extremely difficult to remove or damage, even with the help of heavy duty tools. Thanks to extremely durable materials and a larger design, it wraps around the steering wheel to provide an added level of security. The wrap around design also helps to protect against both airbag theft and breaking of your car's internal steering wheel lock.
Additional car security
Although the Stoplock Pro Elite is a great deterrent on its own, combining it with other car security products from Halfords will make life very difficult for criminals. Create yet another reason for them to walk on with a Bulldog Euroclamp Security Wheel Clamp, an extremely durable piece of kit that will make your vehicle not worth the effort for thieves.
For a cheeky deterrent that will fool even the craftiest thieves, install a a Smartware CCTV dummy camera. You can show criminals that they're being watched, even if there aren't any wires or expensive recording equipment attached!
Easy fitting, removal and storage
The Stoplock Elite Pro uses both keys and a unique key code to add an additional level of security and for an easy fitting and removal of the steering wheel immobiliser. There's even a protective cover for easy storage when the Stoplock Pro Elite isn't in use.
Features & Benefits:
Features deeper bend and larger twin locking forks to create a deeper level of security to wrap around large boss steering wheels, allowing for a greater size tolerance
The Stoplock Pro Elite provides the most universal fit on almost every vehicle imaginable compared to its sister models
This anti-theft device is the visual & recommended deterrent needed to prevent the theft of your car
Includes a protective case, unique key code (spare key included) and a lifetime guarantee
Warranty Information:
Additional Note:
If you need help comparing our car security products or need assistance in fitting your new steering wheel immobiliser for the first time, then don't hesitate to ask one of our car security experts for further advice. Just head to your local Halfords store and we'll be happy to help.
For replacement keys, please contact LOCKTEC Security on 0208 5016342 to order by phone or www.locktecsecurity.co.uk/stoplock-keys