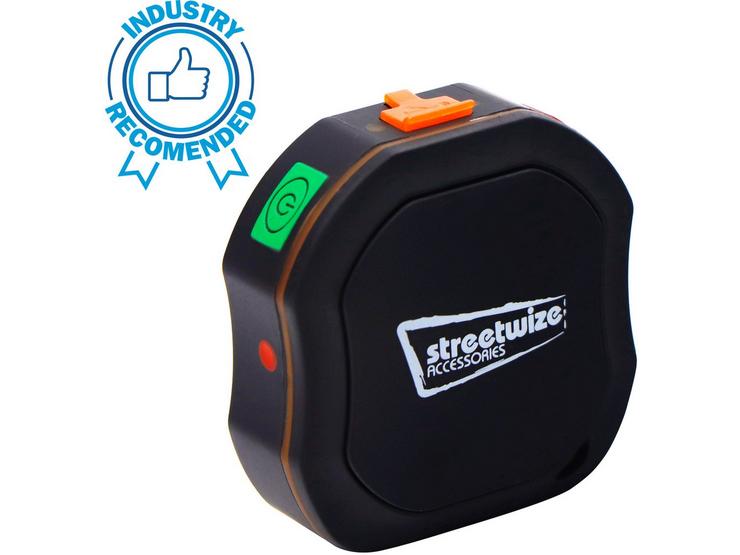 10 people are viewing now
5 purchases during last 48 hours
Streetwize GPS Tracker
An award-winning GPS tracking device for personal and professional use that provides peace of mind. The Streetwize GPS Tracker is a brilliant security device that allows you to track the location of your vehicle whenever you feel the need to do so!
To track your vehicle, you will be required to send a message to the tracker, which will respond with a map of the location (accurate up to 10 meters). The tracker can either be fixed to the battery for permanent power or charged at home. For the best security, hide the tracker well in the car where thieves are very unlikely to find or suspect its whereabouts.
This GPS tracker is about the size of a matchbox, making it a very compact device. Its ease of use is what makes it excellent for a variety of practical applications. The Streetwize GPS Tracker is subscription-free unlike most on the market and is very simple to set up!
Features & Benefits:
Auto Express® Recommended 2019
Keep an eye on the location of your vehicle, caravan or trailer with this compact GPS tracker
A fantastic security device for vehicles and personal use - great for small fleets, one van small businesses and consumer use for personal vehicles
Find lost or stolen vehicles and keep an eye on where vehicles are located at any time
Pre–programmed at the factory for ease
SIM Card NOT Included – text & data rates will depend on which network you choose
Send a text message from your own smart phone or tablet to the tracker and it will send you back a map of the location
Great for cars, caravans, vans, trailers and anything else at risk of theft
We recommend using a SIM card on the same network as your own phone or any other phone you have access too (unless you have an unlocked mobile), as you may need to register the SIM in that phone and add credit before inserting into tracker
Tracker will work with a SIM card installed from any of the networks apart from '3'/'Three', as they do not support the 2G network If your own mobile phone is with '3' this will still work with the tracker having a different networks SIM installed
SMS text service (send a text and get a location map back by text), a data bundle is not required (just text credit)
Additional features such as live online tracking and GEO fencing are possible if you have data access on your SIM (these are optional)
Children, pets and the elderly can also be tracked
Compatibility:
TOYOTA HILUX PICKUP LN65R 2.4CC (2L) DIESEL RHD (A - F REG, 8/1983-7/1988) UK MK2
TOYOTA HILUX PICKUP YN65R 2.0CC (3Y) PETROL RHD (A - D REG, 8/1983-8/1985) UK MK2
TOYOTA HILUX PICKUP YN67R 2.2CC (4Y) PETROL RHD (C - L REG, 8/1985-7/1988) UK MK2
TOYOTA HILUX PICKUP LN105R 2.4CC (2L) DIESEL RHD (F - R REG, 8/1988-7/1997) UK MK3
TOYOTA HILUX PICKUP YN106R 2.2CC (4Y) PETROL RHD (F - R REG, 8/1988-8/1997) UK MK3
TOYOTA HILUX PICKUP LN106 2.8CC (3L) DIESEL RHD (F - R REG, 8/1988-8/1997) IMPORT
TOYOTA HILUX PICKUP LN107 2.8CC (3L) DIESEL RHD (J - R REG, 8/1991-8/1997) IMPORT
TOYOTA HILUX PICKUP LN109 2.8CC (3L) DIESEL RHD (F - R REG, 8/1994-8/1997) IMPORT
TOYOTA HILUX PICKUP LN110L 2.4CC (2L) DIESEL LHD (F - R REG, 1988-1997) IMPORT MK3
TOYOTA HILUX PICKUP LN165R 2.4CC (2LT) TURBO DIESEL RHD (R - Y REG, 8/1997-7/2001) UK MK4
TOYOTA HILUX PICKUP LN166R 2.8CC (3L) DIESEL RHD (R - 06 REG, 8/1997-2006) IMPORT
TOYOTA HILUX PICKUP LN167 3.0CC (5L) DIESEL RHD (R - 05 REG, 8/1997-7/2001) IMPORT
TOYOTA HILUX PICKUP LN172 3.0CC (5L) DIESEL RHD (R - 05 REG, 8/1997-7/2004) IMPORT
TOYOTA HILUX PICKUP KZN165 3.0CC (1KZTE) TURBO DIESEL RHD (V - 54 REG, 9/1999-2005) IMPORT
TOYOTA HILUX PICKUP KDN165R 2.5CC (2KDFTV) TURBO DIESEL (D4D) RHD (51 - 55 REG, 8/2001-7/2005) UK MK5
TOYOTA HILUX PICKUP KUN25R 2.5CC (2KDFTV) TURBO DIESEL (D4D) RHD (55 - 61 REG, 7/2005-8/2011) MK6
TOYOTA HILUX PICKUP KUN26R 3.0CC (1KDFTV) TURBO DIESEL (D4D) RHD (56 - 61 REG, 10/2006-8/2011) MK6
TOYOTA HILUX PICKUP KUN25R 2.5CC (2KDFTV) TURBO DIESEL (D4D) RHD (61 - 66 REG, 7/2011-2016) MK7
TOYOTA HILUX PICKUP KUN26R 3.0CC (1KDFTV) TURBO DIESEL (D4D) RHD (61 - 66 REG, 7/2011-2016) MK7
TOYOTA HILUX PICKUP GUN125R 2.4CC (2GD-FTV) TURBO DIESEL (D4D) RHD (16 - ON REG, 4/2016-ON) MK8
TOYOTA HILUX SURF LN130 2.4CC (2LT) TURBO DIESEL RHD/LHD (F - L REG, 1988-8/1993) IMPORT
TOYOTA HILUX SURF KZN130 3.0CC (1KZTE) TURBO DIESEL RHD (L - N REG, 8/1993-11/1995) IMPORT
TOYOTA HILUX SURF VZN130 3.0CC (3VZE) V6 PETROL RHD (H - N REG, 8/1993-11/1995) UK/IMPORT
TOYOTA HILUX SURF KZN185 3.0CC (1KZTE) TURBO DIESEL RHD (N - W REG, 11/1995-8/2000) IMPORT
TOYOTA HILUX SURF RZN185 2.7CC (3RZFE) PETROL RHD (N - 52 REG, 11/1995-11/2002) IMPORT
TOYOTA HILUX SURF VZN185 3.4CC (5VZFE) V6 PETROL RHD (N - 52 REG, 11/1995-11/2002) IMPORT
TOYOTA HILUX SURF 4RUNNER KZN130 3.0CC (1KZT) TURBO DIESEL RHD (L - N REG, 8/1993-11/1995) UK
TOYOTA LAND CRUISER LJ70R 2.4CC (2LT) TURBO DIESEL RHD (D - G REG, 1986-1/1990) UK
TOYOTA LAND CRUISER LJ70R 2.4CC (2LT) TURBO DIESEL RHD (G - K REG, 1/1990-5/1993) UK
TOYOTA LAND CRUISER LJ71 2.4CC (2LT) TURBO DIESEL RHD (C - G REG, 1986-1/1990) IMPORT
TOYOTA LAND CRUISER LJ71 2.4CC (2LTE) TURBO DIESEL RHD (G - K REG, 1/1990-5/1993) IMPORT
TOYOTA LAND CRUISER LJ78 2.4CC (2LTE) TURBO DIESEL RHD (G - K REG, 4/1990-5/1993) IMPORT
TOYOTA LAND CRUISER KZJ70R 3.0CC (1KZT) TURBO DIESEL RHD (K - N REG, 5/1993-4/1996) UK
TOYOTA LAND CRUISER HDJ80R 4.2CC (1HDT) DIESEL (12 VALVE) RHD (G - L REG, 1/1990-7/1994) UK
TOYOTA LAND CRUISER HDJ80R 4.2CC (1HDFT) DIESEL (24 VALVE) RHD (M - S REG, 1/1995-1/1998) UK
TOYOTA LAND CRUISER HDJ81 4.2CC (1HDT) DIESEL (12 VALVE) RHD (G - M REG, 1/1990-1/1995) IMPORT
TOYOTA LAND CRUISER HDJ81 4.2CC (1HDFT) DIESEL (24 VALVE) RHD (M - S REG, 1/1995-1/1998) IMPORT
TOYOTA LAND CRUISER FZJ80 4.5CC (1FZFE) STRAIGHT-6 PETROL (EFI) RHD (K - S REG, 1/1990-1/1998)
TOYOTA LAND CRUISER KZJ90R (SWB) 3.0CC (1KZTE) TURBO DIESEL RHD (N - W REG, 4/1996-7/2000)
TOYOTA LAND CRUISER KZJ95R (LWB) 3.0CC (1KZTE) TURBO DIESEL RHD (N - 52 REG, 4/1996-7/2000) IMPORT
TOYOTA LAND CRUISER VZJ90R (SWB) 3.4CC (5VZFE) V6 PETROL RHD (N - 52 REG, 4/1996-7/2000) IMPORT
TOYOTA LAND CRUISER VZJ95R (LWB) 3.4CC (5VZFE) V6 PETROL RHD (N - 52 REG, 4/1996-7/2000) IMPORT
TOYOTA LAND CRUISER KDJ90R (SWB) 3.0CC (1KDFTV) TURBO DIESEL (D4D) RHD (W - 52 REG, 8/2000-9/2002)
TOYOTA LAND CRUISER KDJ95R (LWB) 3.0CC (1KDFTV) TURBO DIESEL (D4D) RHD (W - 52 REG, 8/2000-9/2002)
TOYOTA LAND CRUISER HDJ100R 4.2CC (1HDFTE) TURBO DIESEL RHD (R - 07 REG, 1/1998-8/2007) UK AMAZON
TOYOTA LAND CRUISER HDJ101 4.2CC (1HDFTE) TURBO DIESEL RHD (R - 07 REG, 1/1998-8/2007) AMAZON
TOYOTA LAND CRUISER UZJ100R 4.7CC (2UZFE) V8 PETROL RHD (R - 07 REG, 1/1998-8/2007) AMAZON
TOYOTA LAND CRUISER KDJ120R (LWB) 3.0CC (1KDFTV) TURBO DIESEL (D4D) RHD (52 - 09 REG, 9/2002-12/2009) PRADO
TOYOTA LAND CRUISER KDJ125R (SWB) 3.0CC (1KDFTV) TURBO DIESEL (D4D) RHD (52 - 09 REG, 9/2002-12/2009) PRADO
TOYOTA LAND CRUISER KDJ150R (LWB) 3.0CC (1KDFTV) TURBO DIESEL (D4D) RHD (09 - 64 REG, 8/2009 ONWARDS) UK
TOYOTA LAND CRUISER KDJ155R (SWB) 3.0CC (1KDFTV) TURBO DIESEL (D4D) RHD (09 - 64 REG, 8/2009 ONWARDS) UK
TOYOTA LAND CRUISER UZJ200R 4.7CC (2UZFE) V8 PETROL RHD (07 - 64 REG, 8/2007 ONWARDS) UK
TOYOTA LAND CRUISER VDJ200R 4.5CC (1VDFTV) V8 TWIN TURBO DIESEL (D4D) RHD (07 - 64 REG, 2007 ONWARDS) UK
Warranty Information:
1-year Manufacturer's guarantee
Additional Note:
If you experience difficulty setting up your device please contact Streetwise and they will be able to assist