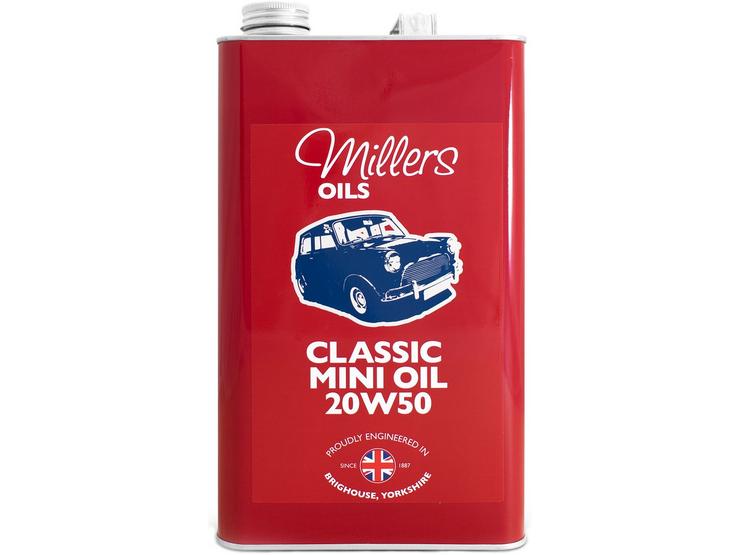 10 people are viewing now
5 purchases during last 48 hours
Grade : 20W/50
Oil Type : Mineral Oil
Size : 5L
Millers Oils Classic Mini 20W50 Engine Oil - 5L
The Classic Mini Oil 20w50 is a moderate detergent premium SAE 20w50 multigrade mineral engine and gear oil. It has been specifically engineered for classic mini engines with integral gearboxes, providing for excellent engine performance and incorporating gear oil additives for smooth gear shifts. Formulated with full ZDDP (zinc/phosphorus).
Features & Benefits:
Improved engine and gearbox protection versus a normal 20w50 engine oil
Longer life for gears, plain bearings and needle/roller bearings
Improved gear change quality
Longer idler gear life in transverse Mini engines
Specific gravity at 15°C: 0.890
Kinematic viscosity at 100°C: 16.7cSt
Kinematic viscosity at 40°C: 147cSt
Viscosity index: 122
Application:
The Classic Mini Oil 20w50 should be used as received in installations where the engine and gearbox share the same oil (e.g. the original Mini), and for gearbox applications that specify an engine oil. The oil is also suitable for some classic motorcycles, mainly the non-roller bearing big end type where the clutch runs on engine oil.
Additional Note:
PERFORMANCE PROFILE:
API SF
GL4
Millers Oils have a range of products and services available for different types of vehicles. It is always best to make sure the product you are putting into your vehicle is the right one.
Millers Oils technical helpdesk are available for bespoke questions including product selection, troubleshooting and general enquiries on

01484 475060

or email

technical@millersoils.co.uk