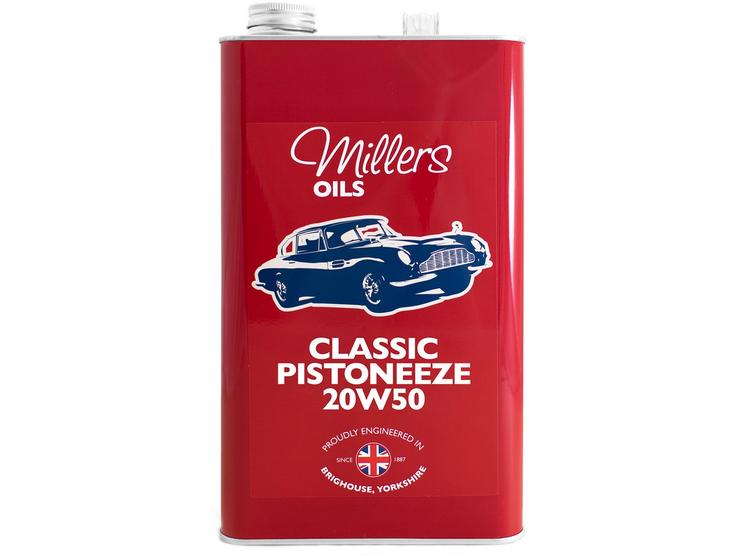 10 people are viewing now
5 purchases during last 48 hours
Grade : 20W/50
Oil Type : Mineral Oil
Size : 5L
Millers Oils Classic Pistoneeze 20W50 Engine Oil - 5L
The Classic Pistoneeze 20w50 is a moderate detergent premium SAE 20w50 multigrade mineral engine oil. The formulation includes high quality solvent refined base oils with the latest technology performance additives and shear stable viscosity index improver.
The oil has been developed for use in classic cars that incorporate modern filtration systems. Formulated with ZDDP (zinc/phosphorus).
Features & Benefits:
Incorporates modern additive technology with period viscometrics to provide the optimum lubrication characteristics
Suitable for higher mileage applications where oil consumption is a problem
Meets up-to-date specifications along with meeting 'period' performance requirements
Specific gravity at 15°C: 0.833
Kinematic viscosity at 100°C: 18.5cSt
Kinematic viscosity at 40°C: 156.8cSt
Viscosity index: 133
Application:
The Classic Pistoneeze 20w50 can be used as received for the engine lubrication of primarily pre-1980 vehicles, both petrol and diesel, which were developed on the multigrade oils of their time.
Additional Note:
PERFORMANCE PROFILE:
Can also be used where SAE 20, 30 and 40 grades are recommended
API SJ
Millers Oils have a range of products and services available for different types of vehicles. It is always best to make sure the product you are putting into your vehicle is the right one.
Millers Oils technical helpdesk are available for bespoke questions including product selection, troubleshooting and general enquiries on

01484 475060

or email

technical@millersoils.co.uk