Comma AQCVT Plus Transmission Fluid 1L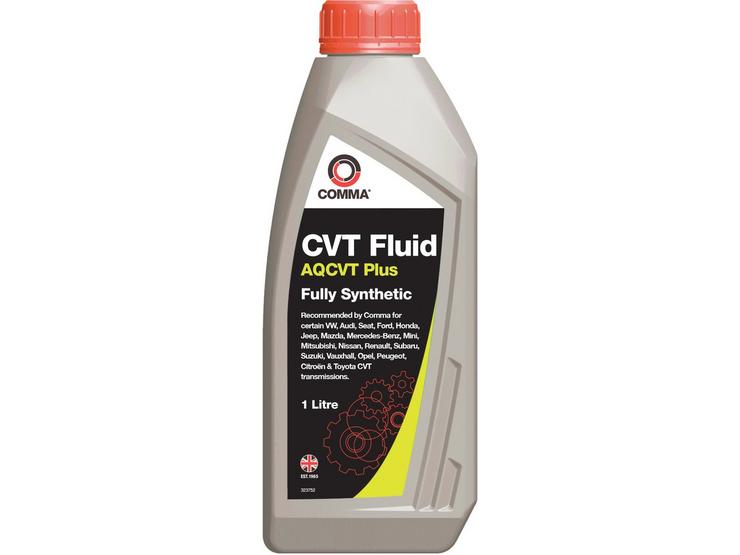 10 people are viewing now
5 purchases during last 48 hours
Comma AQCVT Plus Transmission Fluid 1L
Fluid Type : Fully Synthetic
Size : 1 Litre
Comma AQCVT Plus Transmission Fluid 1L
The Comma AQCVT Plus Transmission Fluid 1L is a high-performance CVT fluid for use in a wide range of vehicle makes, including Audi, Ford, Honda, Jeep, Mazda, Mercedes-Benz, MG, Mini, Nissan, Renault, Rover, Toyota and Vauxhall.
This is best for use with most belt & chain CVT applications and provides excellent metal and clutch friction performance.
Provides extended friction durability to ensure superior anti-shudder performance for enhanced driving comfort.
Excellent metal and clutch friction performance that can help to improve efficiency and durability.
Enhanced oxidative stability to provide robust performance from fill to drain.
Features & Benefits:
1 Litre
Proven multi-vehicle performance, meeting the performance requirements of the widest range of vehicles equipped with push-belt or chain CVTs
Seal compatibility for leakage prevention
Fully-Synthetic Continuously Variable Transmission Fluid
This CVT comes in a 1 litre bottle and has been formulated and rigorously tested to meet high-performance standards.
Additional Note:
Please Note: Packaging received may alter from the image shown.
5 years from the date of manufacture
Hazards & Warnings

Danger: Fire hazard; increased risk of explosion if desensitizing agent is reduced