Millers Diesel Power Ecomax 500ml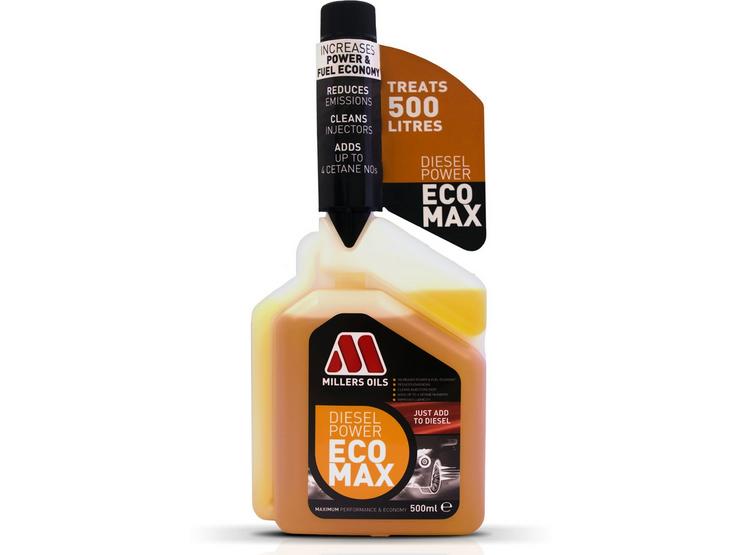 10 people are viewing now
5 purchases during last 48 hours
Millers Diesel Power Ecomax 500ml
ENDS TOMORROW!

Extra 10% Off When You Spend £30+
On Motoring, Tools, Technology, Child Travel & Camping
Use code: PAYDAY10 in basket
Millers Diesel Power Ecomax 500ml
The Millers Diesel Power Ecomax is a high specification diesel fuel treatment for enhanced combustion efficiency and engine cleanliness, with improved detergency and lubricity enhancers.
For use in all diesel vehicles, including Euro IV, Euro V and Euro VI compliant engines with or without DPF. Add 50 ml to each tank of fuel. May also be used at double strength for additional performance.
Features & Benefits:
The Millers Diesel Power Ecomax:
Increases power & fuel economy
Reduces emissions
Cleans injectors fast
Adds up to 4 cetane numbers
Improves lubricity
Multi-shot bottle treats 10x 50 litre tanks
Delivers engine smoothness, noise reduction and fuel savings confirmed by users
Drastically reduces emissions of hydrocarbons (HC), carbon dioxide and nitrous oxide
Improved throttle response at lower revs designed to offer the best of both power and economy
Enhanced detergency package and lubricity enhancers provide a quicker clean up, prolonged injector cleanliness, fuel system component wear protection and corrosion control
Ideal for use as a pre test clean up treatment
Reduces particulates, minimizing the risk of DPF blockage and costly repairs
Improved formula
Directions for use:
Add to fuel in the ratio 1:1000 (1 part to 1000 parts or 1 ml/l).
Hazards and Warnings:
Dangerous for the environment
Toxic to aquatic organisms, may cause long-term adverse effects in the aquatic environment