Slick 50 Power Steering Fluid 500ml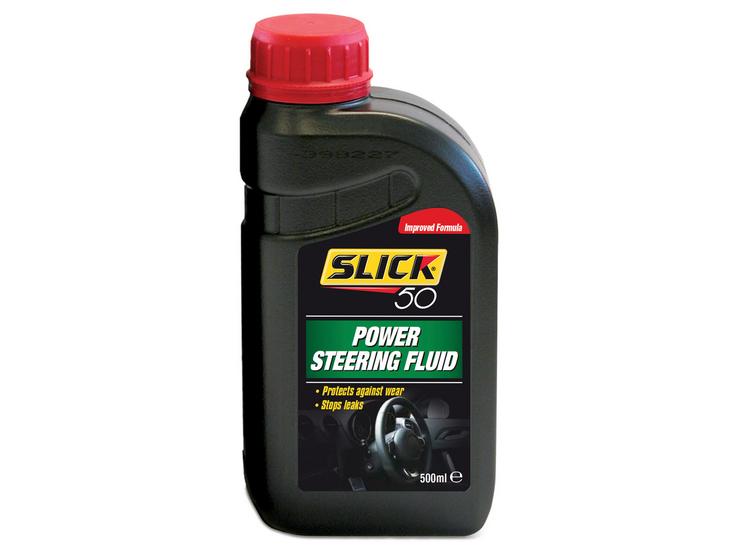 10 people are viewing now
5 purchases during last 48 hours
Slick 50 Power Steering Fluid 500ml
Slick 50 Power Steering Fluid 500ml
The Slick 50 Power Steering Fluid is a formulated power steering fluid suitable for service fill. It protects against wear and keeps all the seals in good condition while reducing oxidation and foaming.
Slick 50 Power Steering Fluid is a universal power steering fluid, however is not suitable for use in vehicles that require DA fluid.
It helps to lubricate the power steering pump, reducing wear and friction. It is formulated to protect against power steering leeks and keeps seals in good condition, helping to prevent the need for repairs.
Features & Benefits:
Protects against wear keeps seals in good condition
Reduces oxidation and foaming
Contains unique Slick 50 Wear Reduction Chemistry
Reduces wear and friction to keep power steering system operating smoothly and quietly.
Keeps seals in good condition to stop and prevent leaks.
Maintains maximum performance even in high and low temperature extremes. Improved formula expands range of power steering system compatibility.
500ml
Compatibility:
Suitable for use where the following specifications are called for : Mitsubishi PS Fluid, Mitsubishi Diamond SP IN, Nissan PSF-11, Acura P/N 08206-9002A, Chrysler MS-1872, Chrysler MS-5931, P/N-04883077, Chrysler MS-9602, ATF+4, Chrysler MS-10838, P/N 05142893AA, Ford M2C195-A, GM P/N 89021184, GM 9985010, P/N 1052884, GM 9985835, Hyundai/Kia PSF-3, Hyundai/Kia PSF-4, Mercedes Benz 236.3, P/N 000 989 88 03, Pentosin CHF 7.1, Pentosin CHF 11S, Pentosin CHF 202, Saab P/N (45) 30 09 800, Subaru P/N KO209A0080, Toyota PSF Type EH, P/N 008886-01, ZF TE-ML 09
Handling:
How to use:
Switch off engine. Wipe clean power steering reservoir filler cap area and remove cap. Fill reservoir to the manufacturer's recommended level with SLICK 50 Power Steering Fluid. Do not overfill. Check reservoir regularly and top up when necessary.
Hazards & Warnings

Danger: Fire hazard; increased risk of explosion if desensitizing agent is reduced