3-IN-ONE Professional Silicone Spray Lubricant 400ml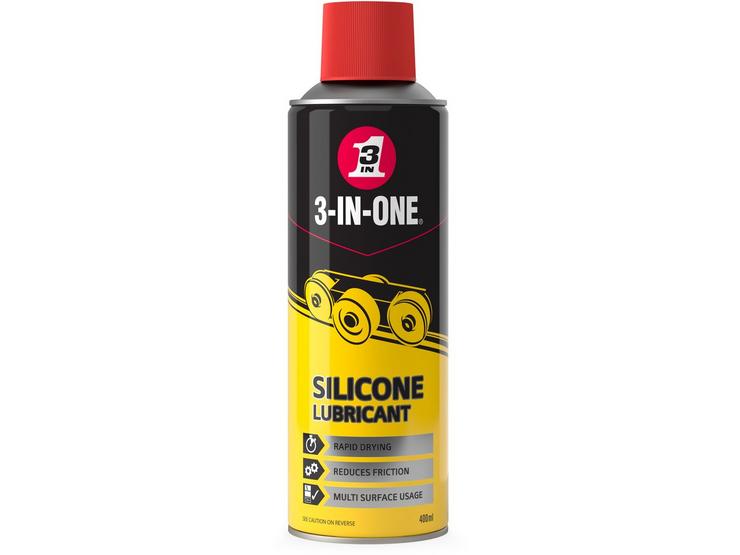 10 people are viewing now
5 purchases during last 48 hours
3-IN-ONE Professional Silicone Spray Lubricant 400ml
3-IN-ONE Professional Silicone Spray Lubricant 400ml
The 3-IN-ONE Professional Silicone Spray Lubricant provides high-performance lubrication and corrosion protection, in a quick-drying no-mess formula.
Its advanced silicone synthetic formula is safe for use on metal, rubber, wood, and vinyl and also protects electrical parts and is perfect for wet environments and marine use. It's also NSF H2 registered making it safe for use in food-related environments.
It is suitable to lubricate doors, locks, hinges, drawers, windows, tools, latches, switches, linkages, valves, pulleys, air conditioners, fans, chains, belts, sport equipment, fishing equipment, gardening equipment, sewing machines and more, while protecting electrical parts (distributors, ignition wires, spark plugs etc), golf equipment, boots, skates, gardening equipment, tools, marine equipment etc.
Features & Benefits:
High Performance Lubricant
Safe on Metal, Rubber, Wood & Vinyl
Quick Drying, No Mess Formula
Prevention of squeaks and creaks
Deposition of a clear transparent coating
Operating temperature range of -40 to +200°C
Provides protection to electrical components
Water repellent
Excellent release properties
Application:
Doors
Locks
Hinges
Drawers
Windows
Tools
Latches
Switches
Linkages
Valves
Pulleys
Air Conditioners
Fans
Chains
Belts
Sport Equipment
Fishing Equipment
Gardening Equipment
Sewing Machines
Electrical Distributors
Ignition Wires
Spark Plugs
Golf Equipment
Boots
Skates
Gardening Equipment
Tools
Marine Equipment
Certifications and Standards:
ANSI/ESD S20.20:2014
BS EN 61340-5-1:2007
Hazards & Warnings

Danger: Extremely flammable aerosol
Warning: Pressurized container: may burst if heated
Danger: May be fatal if swallowed and enters airways