WD-40 Specialist Fast Drying Contact Cleaner 250ml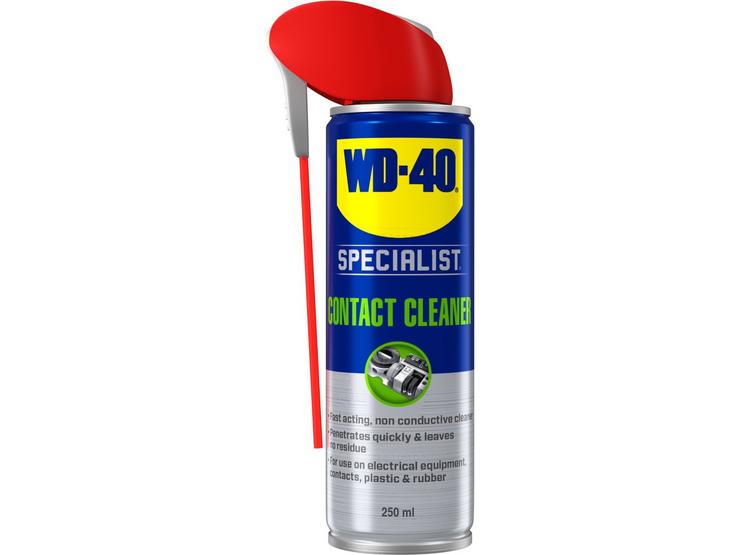 10 people are viewing now
5 purchases during last 48 hours
WD-40 Specialist Fast Drying Contact Cleaner 250ml
WD-40 Specialist Fast Drying Contact Cleaner 250ml
Our Fast-Drying Contact Cleaner is a non-conductive spray that is suitable for use on all sensitive electrical components. It provides excellent cleaning with minimal fuss and removes dirt, dust, condensation and flux residue with ease. It rapidly penetrates hard to reach areas, fast-drying, without leaving any residue.
Simply spray on and allow the product to dry before powering up. Our fast-drying electrical contact cleaner spray is ideal for use on circuit boards, switches, even spark plugs and tape heads. It will remove all the contaminants that cause current leakage and component failure.
In damp conditions, it can help chase away condensation for better, more efficient electrical contact, such as in spark plugs and electrical connections in cars.
You can safely use Fast Drying Contact Cleaner on plastics, rubber and metal for superior cleaning. Because it contains PTFE, it sticks to the surface, repels water and withstands temperatures of -20°C to 100°C. Keeps tools and machinery working smoothly. Improves the life of garden tools and car parts. Protects against rust and corrosion. Sprays on easily with a protective coating for auto hinges, gears, sprockets, winches and chains, latches, door tracks, pulleys, cables, tow bars and guide rails.
With the Smart Straw applicator, you've got two ways to spray; use the flip-up straw for hard to reach areas, such as inside chains, locks or rollers, then flip it down to use the wide-angle spray eye for area coverage on surfaces. Whichever way you need to spray, you can rely on the clever 360° valve to work efficiently at every angle, even upside down.
Features & Benefits:
Cleans oil, dirt, dust, flux residue and condensation from electrical components
Dries quickly, leaving no residue
Is safe to use on sensitive electrical equipment
Creeps into hard to reach areas on circuit boards and contact points
Smart straw and 360° valve allows for precision application in tight spaces
Dual-action Smart Straw® applicator for wide-area and precision spray applications
Fast active non-conductive cleaner
Safe to use on electrical equipment, most plastics, rubber and metal
50-state VOC compliant
NSF Category K2 (#146857)
Application:
Clean circuit boards
Remove dust from electrical components
Clean printers and copiers
Clean switches and controls
Remove condensation from spark plugs and electrical assemblies
Clear tape heads
Electrical Assemblies, Circuit Boards, Controls, Printer & Copiers, Switches, Tape Heads and Precision Instruments*
Directions for use:
1. Isolate all power and allow any hot surfaces to cool.
2. Make sure all stored power is drained from the system.
3. Shake can well. Hold can 15 to 20cm away from the surface and spray directly onto the electronic device or circuit board to eliminate and remove any contaminants that may cause loss of electrical contact.
4. Tilt the surface while cleaning and allow any excess cleaner to run off. Allow product to dry completely and thoroughly vent the system before restoring power
Hazards & Warnings

Warning: Causes skin irritation

Warning: Causes serious eye irritation

Warning: May cause drowsiness or dizziness