Millers Oils CFS 0W30 NT+ Motorsport Engine Oil - 5L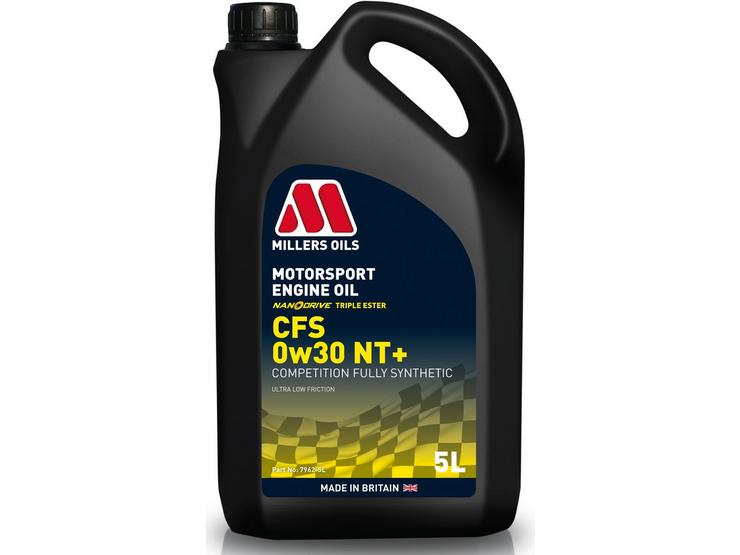 10 people are viewing now
5 purchases during last 48 hours
Millers Oils CFS 0W30 NT+ Motorsport Engine Oil - 5L
Grade : 0W/30
Oil Type : Fully Synthetic Oil
Size : 5L
Millers Oils CFS 0W30 NT+ Motorsport Engine Oil - 5L
Part of the Competition Fully Synthetic NT+ range of engine oils, the CFS 0w30 NT+ incorporates Millers Oils' second generation NANODRIVE low friction technology and is suitable for racing and track use.
The oil has been formulated for use in qualifying and shorter duration events where the engine is designed to take advantage of this type of low drag/low friction lubricant.
Features & Benefits:
Significantly reduces friction and heat generation
Reduces component wear, which promotes longer engine life
Increases power output and torque
Has superior anti-friction and anti-wear characteristics
Improves reliability and energy efficiency
Grade : 0W/30
Oil Type : Fully Synthetic Oil
Size : 5L
Application:
The CFS 0w30 NT+ has been developed for competition engines where maximum power release and ultra-low friction are required. It's particularly well-suited for qualifying or shorter duration events (e.g. hill climbs and sprints) where the engine has been designed for this type of crankcase lubricant.
The CFS 0w30 NT+ is intended for racing and track use, and can also be used for road cars where a fully synthetic 0w30 is recommended by the manufacturer.
PERFORMANCE PROFILE:
Manufactured to far exceed the requirements of API SM/CF and ACEA A1/B1
Formulated for modern high revving engines used in circuit racing and endurance, and for use in events such as hill climbs and sprints
Suitable for operating at 125°C with peak temperatures up to 150°C
Millers Oils have a range of products and services available for different types of vehicles. It is always best to make sure the product you are putting into your vehicle is the right one.
Millers Oils technical helpdesk are available for bespoke questions including product selection, troubleshooting and general enquiries on

01484 475060

or email

technical@millersoils.co.uk