Millers Oils CFS 10W50 Motorsport Engine Oil - 5L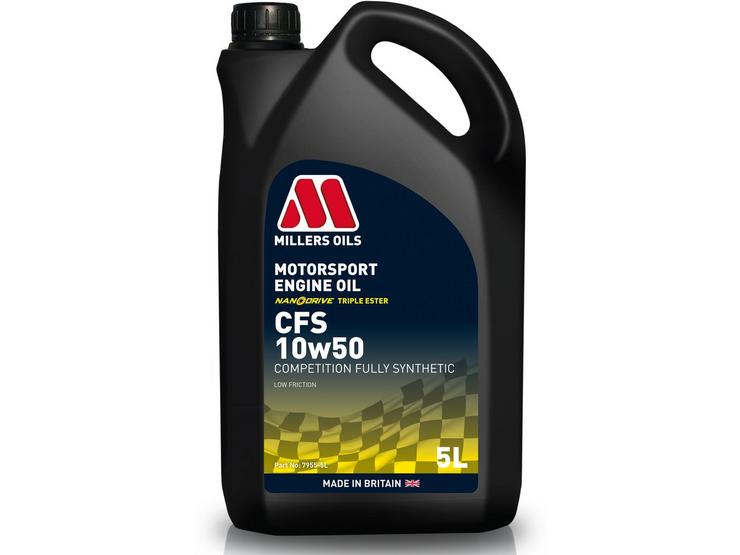 10 people are viewing now
5 purchases during last 48 hours
Millers Oils CFS 10W50 Motorsport Engine Oil - 5L
Grade : 10W/50
Oil Type : Fully Synthetic Oil
Size : 5L
Millers Oils CFS 10W50 Motorsport Engine Oil - 5L
Part of the Competition Fully Synthetic range of engine oils, the CFS 10w50 incorporates Millers Oils' original NANODRIVE low friction technology. It is formulated with 100% synthetic base fluids, including a blend of three esters combined with additive technology for maximum performance.
Features & Benefits:
Improved lubricity, reducing friction and enhancing the oil's performance
Lubricant film is more resistant to 'shear' and viscosity loss in highly stressed areas
Greater load carry capacity than mineral oil
High film strength for ultimate protection
Outstanding cold flow properties for reduced wear at start up
Excellent thermal stability and oxidation resistance
Grade : 10W/50
Oil Type : Fully Synthetic Oil
Size : 5L
Application:
The CFS 10w50 has been designed for use in competition, modified and high-performance engines. It's suitable for all normally aspirated and turbo-charged engines from two litres upwards, and is ideal for modified, high-performance vehicles with or without turbochargers.
The oil is suitable for operating at 125°C with peak temperatures up to 150°C.
PERFORMANCE PROFILE:
Manufactured to far exceed the requirements of API SL/CF and ACEA A3/B4
Suitable for operating at 125°C with peak temperatures up to 150°C
Millers Oils have a range of products and services available for different types of vehicles. It is always best to make sure the product you are putting into your vehicle is the right one.
Millers Oils technical helpdesk are available for bespoke questions including product selection, troubleshooting and general enquiries on

01484 475060

or email

technical@millersoils.co.uk