Millers Oils CRX 75W90 NT+ Motorsport Gear Oil - 5L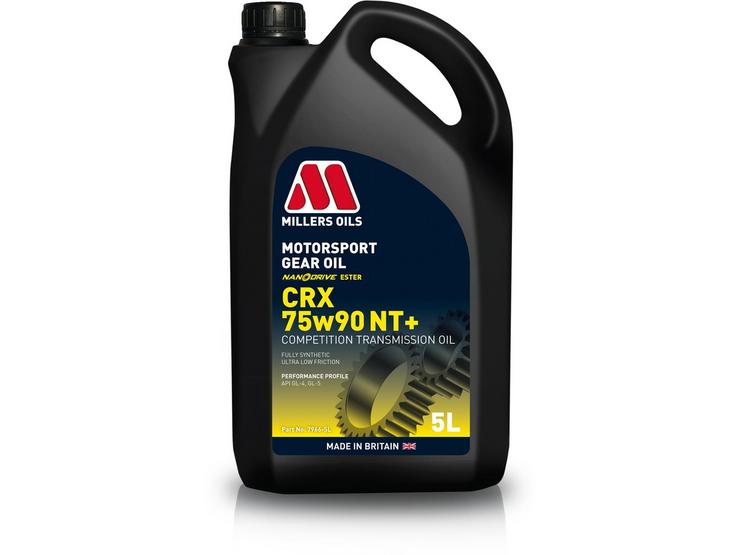 10 people are viewing now
5 purchases during last 48 hours
Millers Oils CRX 75W90 NT+ Motorsport Gear Oil - 5L
Grade : 75W/90
Oil Type : Fully Synthetic Oil
Size : 5L
Millers Oils CRX 75W90 NT+ Motorsport Gear Oil - 5L
Part of the Millers Oils' range of competition gear oils, the CRX 75w90 NT+ incorporates second generation NANODRIVE low friction technology to maximize torque and power. The oil protects the gear teeth at both low start-up and high running temperatures, while the formulation significantly reduces internal friction and power losses.
Features & Benefits:
Exceptional cold flow properties for easier gear changes
Fast lubrication flow to component extremes on start up
Strong oxidation resistance and superior thermal stability
Low friction/drag formulation to help reduce operating temperatures
High film strength for maximum component protection
Significantly reduces friction, temperature and wear, and minimizes power loss
Grade : 75W/90
Oil Type : Fully Synthetic Oil
Size : 5L
Application:
The CRX 75w90 NT+ gear oil is designed for the lubrication of competition gearboxes. It's ideal for manual transmissions, synchromesh, non-synchromesh, sequential gearboxes, transfer gearboxes, transaxles and hypoid differentials without limited slip which require API GL4 or GL5 performance.
The oil is also recommended for modern transmissions where fully synthetic oil is specified, especially for high performance road and track day applications.
Note: The CRX 75w90 NT+ does not contain friction modifiers. For plated type limited slip differentials, use the CRX LS 75w90 NT.
Additional Note:
PERFORMANCE PROFILE:
API GL4, API GL5, API MT-1, MIL-PRF-2105E
ZF TE-ML-02B, ZF TE-ML-05B, ZF TE-ML-07A, ZF TE-ML-12B
ZF TE-ML-16F, ZF TE-ML-17B, ZF TE-ML-19C, ZF TE-ML-21
Millers Oils have a range of products and services available for different types of vehicles. It is always best to make sure the product you are putting into your vehicle is the right one.
Millers Oils technical helpdesk are available for bespoke questions including product selection, troubleshooting and general enquiries on

01484 475060

or email

technical@millersoils.co.uk