Rain X Rain Repellent Trigger 500ml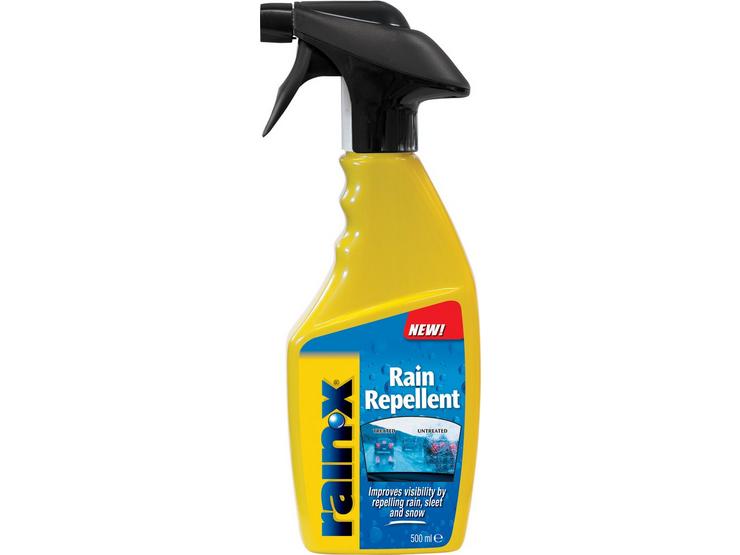 10 people are viewing now
5 purchases during last 48 hours
Rain X Rain Repellent Trigger 500ml
Rain X Rain Repellent Trigger 500ml
The Rain-X Rain Repellent Trigger Spray 500ml offers seamless application and delivers visibility when driving in damp weather conditions. It seals the microscopic pores on glass windscreens to ensure that water beads up on contact and is then blown away by the aerodynamic wind flow from driving.
Features & Benefits:
Repels rain and helps to keep mud, bugs, salt, ice and snow from sticking
Offers improved visibility and prevents potential hazards, resulting in safer driving
Suitable for use on external surfaces, including the mirrors, side windows and front and back windscreen
Also suitable for use on non-etched shower doors and home windows
Product Usage Instructions:
Avoid using the Rain-X® Rain Repellent on plastic shower doors, glass shower doors with etching or frosting, plexiglass and fibre glass.
Avoid using the Rain X® Rain Repellent on any plastic surfaces, including motorcycle windshields, ATVs and solar panels.
We recommend using the Rain-X Plastic Water Repellent on motorcycle and boat windscreens.
Always use windscreen wipers as necessary.
Hazards & Warnings

Danger: Highly flammable liquid and vapour

Warning: Causes serious eye irritation

Warning: May cause drowsiness or dizziness