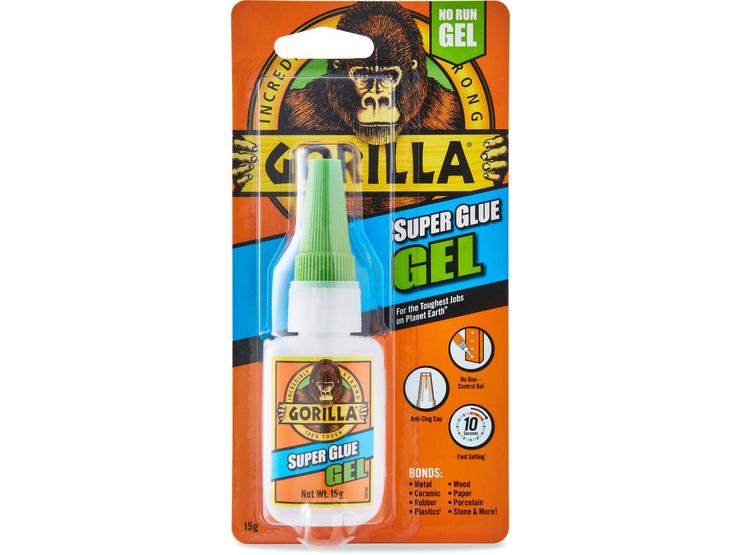 10 people are viewing now
5 purchases during last 48 hours
Suitable For : All Materials
Gorilla Super Glue
The Gorilla Super Glue contains a fast-acting formula that sets in just 10 seconds. It's versatile and sticks rubber, paper, wood, leather, metal, ceramics and more.
It is an easy-to-use, thicker and more controlled formula, which is great for multiple surfaces and vertical applications. The glue is developed for long-lasting repairs. The clear glue dries in 10–45 seconds. This super glue gel is specially formulated to absorb drops and impacts.
Features & Benefits:
Impact strength Shock resistance guaranteed, even with a big hit.
Reduced clogging
Keeps your bottle fresh with an anti-clog cap and metal pin.
Additional Note:
Store in a cool, dry location. Do not store in refrigerator
Protect Work Area From Spills
Clean and Dry Surfaces to Be Bonded
Prepare Gorilla Super Glue Gel
With cap on bottle, shake product, then turn product upside down and tap on hard surface to shake gel into bottle nozzle.
Apply Gorilla Super Glue Gel
Remove cap and apply a small amount of Gorilla Super Glue Gel to one surface. Only one dab per square inch recommended. Set time can vary based on the amount of glue and type of surface glued. Excess glue can cause delayed or failed bond.
Secure
Press the two surfaces together for about 10–45 seconds. Note that gaps and uneven surfaces may cause delayed bonding. Wait 24 hours for a full cure.
Hazards & Warnings

Warning: Causes skin irritation

Warning: Causes serious eye irritation

Warning: May cause respiratory irritation