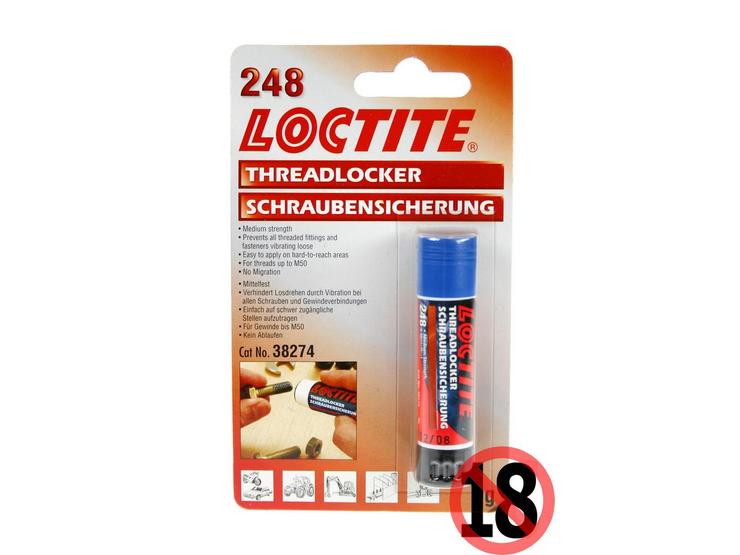 10 people are viewing now
5 purchases during last 48 hours
Suitable For : Thread and bearing locks
Loctite Threadlocker
The Loctite Threadlocker is a medium strength adhesive designed to prevent all threaded fittings and fasteners from vibrating loose.
It is an anaerobic thread-locking material that is provided as a wax-like, semi-solid, conveniently packaged in a self-feeding stick applicator. As with liquid anaerobic products, this material develops its cured properties in the absence of air when confined between close-fitting metal surfaces.
The LOCTITE 248 is a blue adhesive in a non-drip, easy-to-apply stick form. It is suitable for all metal threaded assemblies.
It is a general-purpose thread-locker with a medium bond strength. This product is available in a convenient stick format. It secures and seals bolts, nuts and studs to prevent loosening due to vibration. The product works on all metals, including passive substrates such as stainless steel, aluminium, and plated surfaces. It is proven to be tolerant of minor contamination due to industrial oils like engine oils, corrosion prevention oils and cutting fluids.
The Loctite 248 is particularly well suited for applications where a liquid product may be too fluid to stay on a part or be difficult to apply. It stores easily and allows for direct contact to a threaded part during application to ensure even coverage.
Features & Benefits:
Easy-to-apply on hard-to-reach areas
For threads up to M50
No migration
Permits disassembly with hand tools
Hazards & Warnings

Warning: May cause an allergic skin reaction

Warning: Causes serious eye irritation

Warning: May cause respiratory irritation
: Harmful to aquatic life with long lasting effects