Plastic Padding Super Steel Epoxy Weld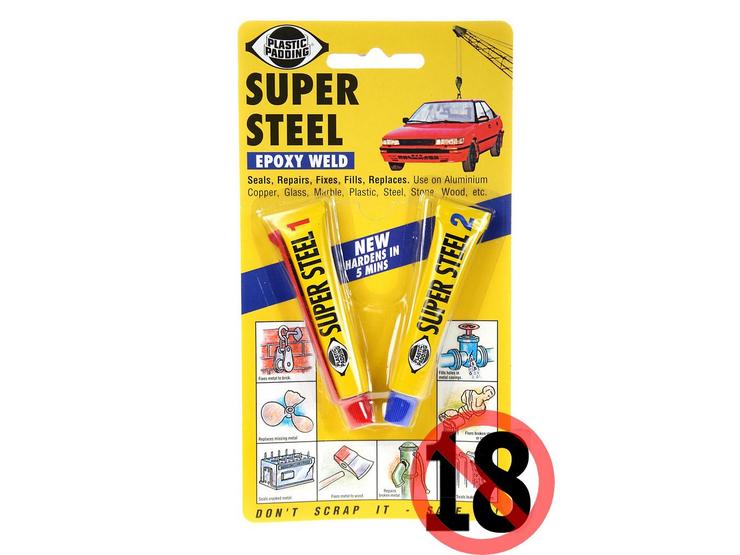 10 people are viewing now
5 purchases during last 48 hours
Plastic Padding Super Steel Epoxy Weld
Plastic Padding Super Steel Epoxy Weld
The Plastic Padding Super Steel Epoxy Weld is a dark-grey coloured, metal-filled, two-component adhesive, which sets like steel and is ideal for emergency repairs around the home, garden, farm, car, boat etc.
It hardens in 5 minutes and cures in 10 minutes. It works well under a maximum temperature of 315°C (<100 continuous). It contains 54g/l solvent. It is not suitable for soft plastic and polypropylene.
The Plastic Padding Super Steel comes in two tubes. When the contents of the tubes are thoroughly mixed, the curing process begins and you have a short period to place and use the mixture. The mixture hardens and soon cures to be as strong as steel.
Features & Benefits:
2 x 25g
High-performance adhesive
Seals, bonds, fixes and replaces
Suitable for metal, wood, china stone, glass and leather
Application:
To use Super Steel Epoxy make sure the surfaces to be bonded are clean and dry and free from oil, dirt or grease.
It is a good idea to clean the surfaces with methylated spirit or cellulose thinners and to roughen the surfaces before applying.
Mix equal amounts of the resin and hardener thoroughly until the colour is uniform.
Apply the resin to both surfaces to be joined and clamp or tape the parts together until Super Steel has set hard.
The resin dries in approximately five minutes, allow 1-2 hours before the repaired or joined items are used.
Hazards & Warnings

Warning: Causes skin irritation

Warning: May cause an allergic skin reaction

Warning: Causes serious eye irritation
: Toxic to aquatic life with long lasting effects