Mini Micro 3in1 Deluxe Plus Blue Kids Scooter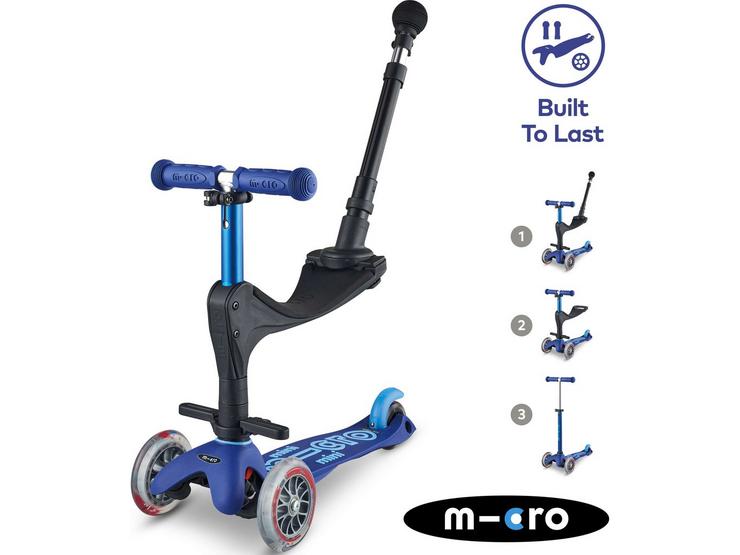 10 people are viewing now
5 purchases during last 48 hours
Mini Micro 3in1 Deluxe Plus Blue Kids Scooter
Adjustable handlebar height : Yes
Folding : No
Steering : Lean to steer
Mini Micro 3in1 Deluxe Plus Blue Kids Scooter
Suitable from 12 months to five years
Comes with removable, adjustable parent steering column
Lean-to-steer design
Built with clever engineering, the
Mini Micro 3in1 Deluxe Plus
can be adapted as your child grows through each phase of their early development, while also helping to speed up the development of vital skills. Your child can take pleasure in many years of scooting adventures both indoors and outdoors! Plus, with lean and steer technology at every level, your child will be able to further improve their balance and co-ordination skills much before they have even started school.
To start with, tiny tots can now begin their gliding escapades much earlier. The first stage of the
Mini Micro 3in1 Deluxe Plus
is setup with an adjustable seat that secures onto the handlebar stem of the scooter. It incorporates a specially designed seat and handle, which attaches to the classic Micro Mini. This allows one year old infants to comfortably sit and scoot, while becoming accustomed to motoring experience. In addition, and most importantly, your little one will begin to feel at ease with riding on the toy and they will begin to acquire coordination skills.
Then, when your child approaches their second birthday, the seat can be removed and the supplied learner O-shaped handlebars can be attached to the scooter. These are perfectly suited for small toddler-sized hands, to allow them to have firm control of the scooter while revelling in hours of scooting amusement.
Once your child turns three years old, the O-shaped handlebars can then be switched with the adjustable T-shaped handlebars supplied. The scooter is now transformed into the iconic and award winning Mini Micro Deluxe Scooter. As your youngster continues to grow from here on, the handlebar height can be easily adjusted so that it is accurately positioned to suit your child.
No matter which stage of scooter they are playing on, the lightweight aluminium frame will allow your little one to securely operate and handle the
Mini Micro 3in1 Deluxe Plus
with ease.
The removable stem allows the scooter to be stored away at home, or transported in the boot of a vehicle without any trouble.
Mini Micro 3in1 Deluxe Plus Pink Blue Scooter Extra Info
Price match guarantee
Lifetime safety checks