Micro Speed Scooter - Silver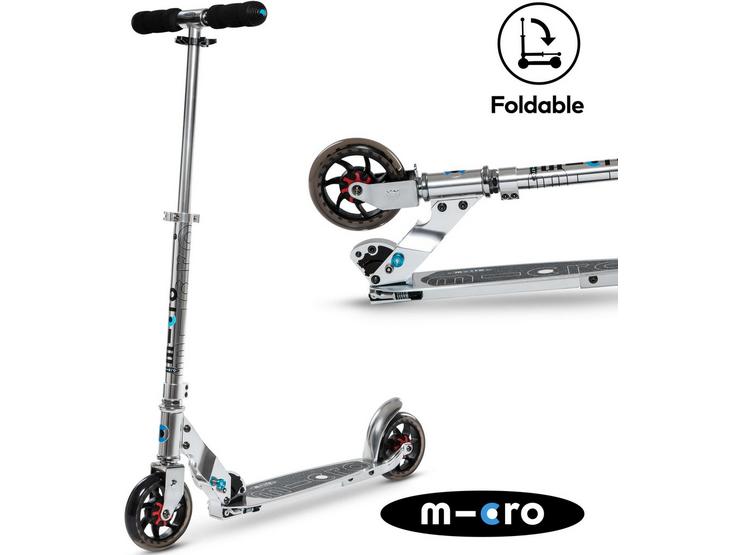 10 people are viewing now
5 purchases during last 48 hours
Micro Speed Scooter - Silver
Brake Type : Rear foot brake
Folding : Yes
Wheel Diameter (MM) : 145mm
Micro Speed Scooter - Silver










Suitable for 12+
145mm wheels
Integrated shock dampening system
Integrated kick-stand
Foldable frame
Non-slip aluminium footplate
Built-in mud flaps
Adjustable handlebar height
The nimble and fast
Micro Speed Adult Kick Scooter
is a perfect lightweight scooter that allows for fast commuting. This makes it an ideal choice for everyday use and is the perfect model for riders in urban settings.
With adjustable handlebars and an age-limit of ten years and above, the adaptable height of the handlebars makes sharing the scooter with your older children very straightforward. The clasp on the Micro Speed Scooter allows you to tailor the scooter with ease by either lengthening or shortening the stem to achieve the perfect position for your scooting journey. The handlebars also feature a foam grip to provide relief while you hold on tight and securely.
One of the key features of the Micro Speed is the set of smaller wheels. To give you an even smoother ride when riding over rough surfaces, the smaller wheel size is more lightweight and will help to reduce some of the impact of riding quickly over uneven ground. Engineered with pro scooter wheels that are much smaller than traditional scooters, it allows you to build up momentum and maintain speed effortlessly. The small wheels of the Micro Speed Scooter have shock absorbing technology built into them, which gives suspension functionality to ease the ride on the feet. This means that you can comfortably reach a higher pace across multiple surfaces for a bump-free ride. In addition, The Micro Speed Scooter comes complete with a wider foot deck both for comfort and to accommodate larger feet. While its aluminum footplate provides a nonslip surface so that you can make sure your feet stay firmly on the scooter without accidentally sliding off.
There are multiple options when it comes to storing the scooter, whether you want to tidy it away at home, or transport it in the boot of your vehicle. The scooter has been designed so that it can be easily folded and transported. Plus, with an incorporated kickstand attached for easy parking, the scooter can be stood upright on its own without leaning it against a wall or having to lay it on the floor. This helps to minimize any risk of damage or scratches to the glossy aluminum surface. Plus, the foldable frame makes it super easy to fold the scooter away. Or, if you prefer to carry the scooter by hand, a detachable strap is available to make carrying the scooter that much more comfortable on your shoulder.
The
Micro Speed Scooter
is also available in various different colors making it easy for you to have several of them for multiple adults or older kids to use at once without getting anything mixed up:
Which micro scooter for adults?
The best scooter for adults combines practical functionality with a fast but comfortable riding experience. The
Micro Speed Scooter
is lightweight and compact making it easy to carry for hop-on-hop-off journeys. This makes it the
perfect choice of scooter for both the hurried adult commuter, and the leisurely adventurer.
Micro Speed Scooter - Silver Extra Info
Price match guarantee
Lifetime safety checks
Scooter Sizer
| Type | Age (Years) | Height (Inch) | Height (cm) |
| --- | --- | --- | --- |
| Ride on Scooters | 1+ | 2' 4" + | 76cm+ |
| 3/4 Wheel Scooters | 2+ | 2' 7" + | 84cm+ |
| 3/4 Wheel Scooters | 3+ | 3' 2" + | 98cm+ |
| 2/3 Wheel Scooters | 5+ | 3' 7" + | 112cm+ |
| 2 Wheel/Stunt/Electric Scooters | 8+ | 4' 1" + | 127cm+ |
For 14+ please ask an expert about our adult scooters and hoverboards